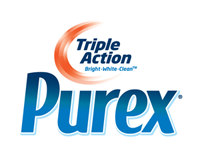 We Champagne Living fashionista's know what to pay for and what to save on. We know how to put it all together for that FAB look, and no one is the wiser at how much we spent. It's about flair and style, rather than cash and credit. But, once we take that Michael Kors shirt off our backs, keeping it in great condition for years of wear is JUST as important as what we paid.
I've found two great new products, both by Purex. One will clean, clean and clean again. That's right THREE times the clean. The other is for lazynista's like me, who think laundry is a bore but still want our clothes to clean and fresh.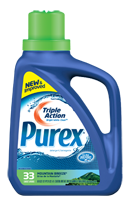 Purex Triple Action laundry detergent leaves your laundry bright, white and clean with their new BETTER Purex formula. As with all of Purex detergents, the price is RIGHT. I don't know about you, but I'd rather spend less on a product that works and be able to grab a new pair of those shoes I wrote about last week, than empty my wallet on a detergent that costs more. AS LONG AS IT WORKS!
I've done a half dozen loads of laundry with this new formula and I can tell you first hand that it PERFORMS.  Purex has figured out a better formula and I must say that my Seven jeans came out clean and bright. I love that this can be used for anything from whites to jeans – it's one stop cleaning..
Kudos to the new triple action formula. 
For the ultimate in easy, Purex has taken this same formula (which they've rolled out through their entire line of laundry products) and created the new Purex UltraPacks laundry detergent.
UltraPacks are pre-dosed
Triple action cleaning
No mess – great for having the kids help with the laundry
2x's the concentrated liquid detergent – double the cleaning power
Dissolves QUICKLY – I use cold water and I can say that they dissolve well
Great for HE washing machines – an added plus, because HE detergents are usually over priced
One of the things that I really like about Purex detergents is that they not only offer scents, but you can also get thises in the Free & Clear formula – great for allergies, or those of us who don't want the smell of our clothes to interfere with that wonderful Costes parfum we're wearing.
Now that you've saved on keeping it clean, what will you buy with the money you've saved?
I received product as a Purex Insider to facilitate this review. All opinions are my own.