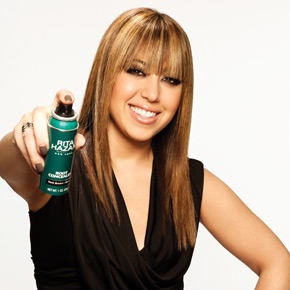 I'm overdo for a cut and color and while I've got an appointment with Shana scheduled for next week, I have a HUGE event to attend (not giving you all of the details – just saying that it involves a national TV show) and I can't go with my roots showing.  Having NEVER tried any root concealer products, I knew that NOW WAS THE TIME that I needed one. What if I'm on camera? I can't have these awful gray white roots showing just how old I really am.
Luckily, Rita Hazan (celebrity hair stylist), has developed this great temporary solution to help us get rid of unwanted roots or grays the moment they pop up (since you can NEVER seem to get an appointment with your hairdresser on the DAY that you see them).  Her Root Concealer Temporary Color Touch Up Spray for salon color regrowth coverage or gray is incredibly easy to apply-just one quick spray and you're ready to walk  out the door. See...I was able to do it in just SECONDS.
Rita Hazan's hair color resume includes hot celebrities like Jessica Simpson, Michelle Williams, Renee Zellweger, and Jennifer Lopez just to name a few. Hazan has worked over four years developing a solution she could stand behind for every woman who colors her hair-covering up emergent roots. To apply her Temporary Color Touch Up, simply spray six inches from your hairline. Use sparingly since a little goes along way –  it dries in minutes and you're off!
Whether your haircolor is:
Dark Brown/Black
Blonde/Golden Blonde
Dark Blonde
Light Brown
Red
you'll be able to easily cover those pesky roots.
Oh, and I promised to tell you where you can buy Rita Hazan Root Concealer…didn't I? Just pick it up at SEPHORA!
To learn more about this and other Rita Hazan hair products
I wrote this review while participating in a blog tour campaign by Mom Central Consulting on behalf of Rita Hazan and received a Rita Hazan Root Concealer product and a promotional item to thank me for taking the time to participate