I created this Poise Microliner post as part of a sponsored #PoisewithSAM program from Socialstars. All that junk I spilled out of my bag is strictly my own.
I've let you into my beach bag, let you explore DEEP into my suitcase, but I've NEVER let you see what I carry with me in my cosmetic bag, and today I'm going to dump it ALL out on the bed and show you.
It's a small bag that I picked up at the Columbus Circle Christmas Market in New York a couple of years ago, and because I carry everything from small crossbody bags to backpacks, I need something that will fit into ANY of my handbag choices. While I try to keep it pared down to the bare minimum, I'm over 60, so….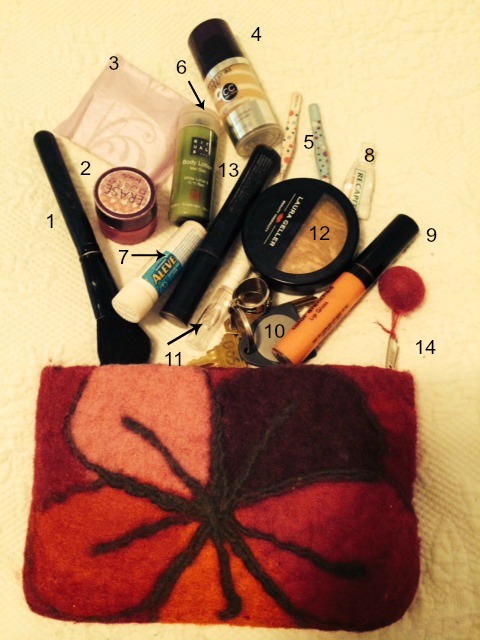 What's in the bag?
1. An inexpensive blush brush –  I use a good one when I put my make-up on in the morning, but I needed a small one to tuck into the bag. I got this one at an e.l.f. house party YEARS ago, and it probably needs replacing.
2. Benefit Erase Paste in No 2. – After having had my eyes done by various make-up artists for some advertisements I did, I realized that I was using the wrong color concealer. No 2 has a slight orange tinge to it to balance out my dark circles. As you'll see, I carry TWO concealers with me, and if I had more room, I'd probably carry more.
3. Poise Microliner – There's a back-up one still in the bag. Hey, I'm 60, I like to laugh and I leak from LBL. I was a Girl Scout 50 years ago, and I learned to "Be Prepared."
4.  CoverGirl CC Eye Rehab Cream – Yes, this is concealer #2 in shade 340 (light/medium). It brightens my undereyes and conceals while it corrects the color. Just like that Poise Microliner in #3, I need extra.
5. TWO little tweezers by Revlon – one is a slant tip and the other a point tip. It's for those times that I look in the rear view mirror in the car, or casually rub my chin and find one of those IRON-LIKE LONG HAIRS that seem to pop up over night. UGH
6. Ritual Body Lotion – I grabbed this from the last hotel that I stayed at. I like the smell and it's a nice small container. I may leave the shampoo/conditioner in hotel rooms behind, but I always grab the lotion and shower cap.
7. Aleve – Or whatever I happen to have in the house for a painkiller (I just refill the Aleve container). Dina Vathis gave me this in a SWAG bag at a movie junket, and it was some of the BEST swag I've ever gotten. USEFUL STUFF RULES.
8.  Recapit – I have a temporary crown. I can't have it put on permanently, because the dentist wants to do some work on the tooth next to it, and if it's permanent he's afraid he might break the crown and I'll have to pay for another one (at a price of $1500+), so I carry Recapit to put the crown back if it comes loose and falls out.
9. Laura Geller Color Drenched Lip Gloss – in Melon Infusion. In summer I only wear a gloss and I like the consistency of Laura Geller (it's not sticky) and the color is "almost" sheer.
10.  Keys to the vacation condo – I hate a keyring with TOO many keys, and since I only use these when I'm up in Boston I just keep them tucked into my cosmetic case.
11. Sample size perfume – I've recently switched from Costes (which I wore for years) to Calvin Klein's Endless Euphoria. I grabbed a sample to keep with me for touch ups.
12. Face & body glow – It's a fancy name for Laura Geller's baked bronzer (Color: Tahitian Glow). It's very natural and I can use it to keep my tan looking good, or as a blush when I'm a pale face.
13. Mascara – This one is love lash  mascara in black by Mary Kay, but I also use Cover Girl's Lash Blast Fusion and Blinc. I hate mascara's that leave me with raccoon eyes, and these seem to work well for me.
14. Cosmetic Case – I picked this up as I was shopping on a Sunday morning before the premiere of War Horse at Lincoln Center. It's a felted wool, and I use it as both a cosmetic case as well as, as a clutch.
If you'd like to give Poise Microliners a try for your LBL moments visit: POISE for a FREE SAMPLE