2020 is the year of standing up for ourselves
And we have an incredible spokeswoman doing just that alongside Joe Biden. If you watched the vice presidential debate last week, you'll surely remember feeling just as she did when she asserted her right to speak without interruption by our current vice president. It wasn't just ME who has felt that twinge of dismissal by men that we've dealt with within our business and personal lives.
While watching the vice presidential debate with her 11-year-old daughter, the artist, English Norman was writing postcards to get out the vote via the Georgia Postcard Project when she noticed the phrase "I'm speaking" started trending, particularly among women, after Senator Kamala Harris asserted her right to speak without interruption from her male contender.
A recent study shows that male Supreme Court justices interrupt female SC justices 3 times more often than the reverse. And female SC justices are interrupted by male ATTORNEYS 3 times more often than male SC justices are. Other research is varied, but among coed play dates where 4 year olds know each other, boys interrupt girls 3 times more often. The interruptions increase as the number of boys in a group increases. As a mom, English Norman is teaching her daughter to speak up and be heard. Stop the interruptions and let's listen to what each other is saying.
Her daughter asked, "So wait, that woman could be the next Vice President?" and Norman knew she had to include the phrase in her Vote 2020 collection.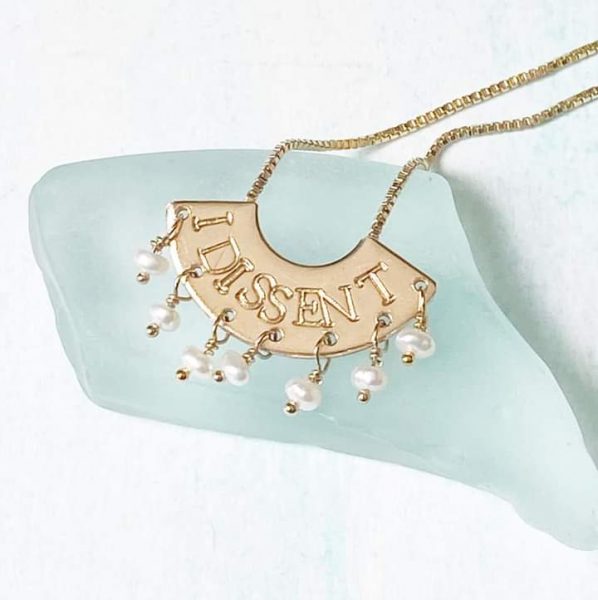 Norman swiftly designed the "I'm Speaking" necklace, with optional black onyx stone to represent the now-viral "Debate Fly"
I fell in LOVE with this necklace (it's on my current wishlist of gifts to buy myself in silver). At $85 ($95 with optional black onyx Fly) this statement necklace is available in both a 16-18″ and 18-20″ adjustable length necklace. I love silver, but if you wear gold, she just added this necklace in 24k gold fill at $115.
Looking for something a bit more personal?
Any short word-combination can be made for personalized necklaces and bracelets, including phrases like Equal time, Excuse me, You're welcome, #TheFly2020, I will not be lectured to, Take it like a lady, Heard you sis! or anything that you want to wear with pride (for me the simple 4-letter words VOTE or perhaps something that commemorates an occasion would make a great gift as well.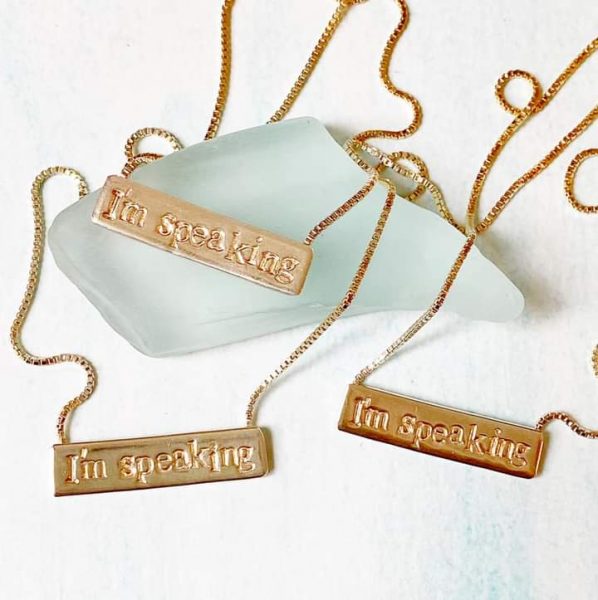 The gift that gives back
20% of sales from the 2020 Vote Collection go to the
Georgia Postcard Project
to activate the Georgia vote, a battleground state in the presidential election, with 2 Senate seats open. This organization was founded at the grassroots level when now Governor Kemp removed 500k voters from the rolls when he ran up against Stacey Abrams.
To help
To wear your support
English Norman's necklaces are available on Shopify in both