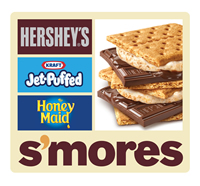 TELL ME – how LONG has it been since you've had S'Mores? I think that I was in Girl Scouts which as I calculate was a L-O-N-G time ago. The truth is, I love chocolate, I love graham crackers and I can't drink a cup of hot chocolate without plopping in a big fluffy marshmallow. With it being football season here at the mansion (we're watching Denver vs. Detroit while I'm writing this), I thought that I'd let you in on a FUN way to tailgate and make your S'mores as well as the way that I make them here at the mansion.
If you're heading out to the game don't forget to:
Grab your spot early – Leave ample time to secure your spot and arrive no later than 90 minutes before kick-off. The closer you are to game time, the more likely you will be caught in game day traffic, which will impact your tailgating plans.
Have the right equipment – Just as players need proper pads and helmets on the field, tailgaters need proper cooking equipment! Portable grills, coolers, aluminum grilling utensils and storage for leftovers are all items to invest in for tailgate season.   Make sure to use separate coolers for food and beverages to avoid any confusion.
Don't forget the dessert! – A great meal with friends and family ends with dessert, and tailgating is no exception! S'mores are The Official Dessert of TailgatingTM and easy to make – just 'Build it, Wrap it, Grill it!' Simply build your S'mores to your liking, wrap in aluminum foil and grill them for 1 to 2 minutes on each side over a medium hot grill until the milk chocolate and marshmallows are perfectly melted between two graham crackers. It's the perfect way to sweeten your tailgate!
Bring the entertainment –Fans often tailgate for several hours on game day, so make sure there are plenty of activities for the group. Popular games such as corn-hole "bean bag toss," washers and ladder toss are perfect for tailgating festivities. Don't forget a radio to get everyone excited for kick-off!
Did you catch that easy recipe? That's right, you just wrap them in aluminum foil and pop 'em on the grill for a minute or 2 and you'll be enjoying that flavor you've been missing for all those years.
Of course here at home, I give my S'mores a bit  more of an elegant twist.
Can you see my secret ingredient?
Now…preheat your oven to 350° and line a cookie sheet (I use a silicone pad…it's nonstick & keeps my pan clean).
I like to keep it traditional and use Honey Maid and Hershey's Milk Chocolate bars with Kraft Marshmallows
Now, this is where I veer off a bit because….
Cook them for 5 minutes (or until the marshmallows get a bit crispy and browned).
and…
A little more elegant twist on S'mores, served at the table with a wonderful cup of espresso to finish off the meal.
I was provided the Honey Maid Graham Crackers, Hershey's Chocolate Bars and Kraft Marshmallows in order to facilitate this post. The recipe, additions and opinions are my own.
GIVEAWAY
Extra Entries
* Tweet me @zipporahs and tell me the last time you had/made s'mores using the hashtag #smores
* Comment below with your tweet
* Subscribe to Champagne Living, "Join the Clique", follow me on facebook or twitter – all found on the sidebar (each counts for 1 extra entry)
* Tell your peeps on your blog, facebook page or twitter about this or any post (each counts for 1 extra entry) and link to us.
*Share this giveaway on any contest/sweepstakes/giveaway site for 5 extra entries..
This giveaway is open to US residents, 18 and over and ends on November 14, 2011.
No purchase is necessary.
Odds of winning are dependent upon the number of entries received.
Void where prohibited by law.
Winners will be selected by Random.org and sent to The Hershey Company  for fulfillment. Champagne Living is not responsible for prizes that go unfulfilled by the aforementioned sponsor.