I'm not much of a crafter. I can sew (although I haven't in years), knit (ditto that last statement) and I am fairly creative about CERTAIN things. BUT – put a glue gun in my hand and you've got a recipe for disaster. One try and you'd be finding laced glue all over the house for the  next five years in places that you'd be scratching your head thinking…how…?????
Needless to say, creating a tabletop setting has to be easy and NOT involve anything with a glue gun, scissors, velcro, or…you get the picture. For Thanksgiving I wanted to give the table a harvest feel (even though the warm breezes are blowing the palm trees here in South Florida), so I headed to WalMart to check out some of the Better Homes and Gardens Harvest collection and see how I could use them on my table for a rich, Fall look (without spending a fortune).
Here's what I purchased – all from the Better Homes & Gardens collection at WalMart:
A harvest brown runner
Gold Harvest leaf bowl
Pumpkin wreath
Candied caramel pecan candle
4 Gold Harvest leaf salad plates
2 sets of Harvest brown napkins
Gold Harvest leaf salt & pepper shakers
BH&G Autumn filler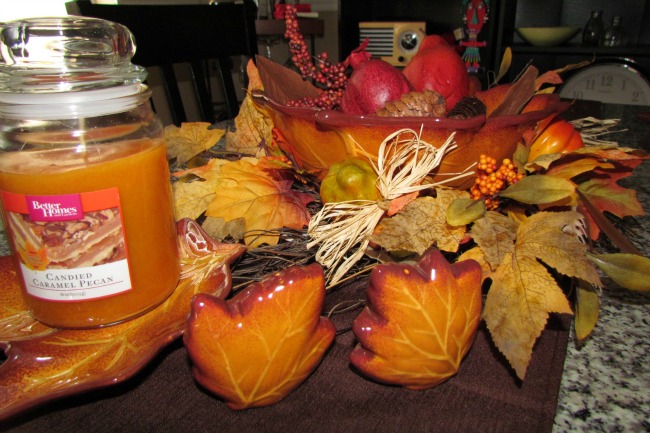 I simply set the runner out on the table. I placed the BH&G large leaf bowl into the center of the pumpkin wreath and filled it with a BH&G Harvest filler that I found in the candle department.  Then I placed the items around it to fill out the center of the table.
All Better Homes and Gardens Harvest Collection items are available at either Walmart or Walmart.com.