While the neighborhood kids are ringing bells looking for their favorite candies and treats, why not have a little get together for the adults? I love making things as EASY as possible and make a HUGE splash for less.
Here at the mansion, putting out tapas along with a delicious Cava like Freixenet Cordo Negro minis (in the spooky black bottle)  are all that we need for a hauntingly good time.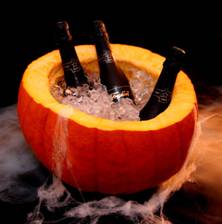 Rather than just putting out the "usual" pretzels and chips, why not toast some pumpkin seeds like those seen on the PartyBluPrintsBlog from that pumpkin you just picked up at the farmer's market? Forget about making that Jack 'O Latern with this one. I've got a BETTER use for it!
Hollow it out, fill it with ice and fill it with one of my favorite bubbly's!! You don't even need to put out glassware with these mini's (although I prefer my Cava served in a flute)…it's HALLOWEEN, time to mix things up a bit.
For tapas I like to put out:
Tapenade – I use store bought
A variety of marinated olives
Serrano ham
Sliced french bread – sliced on the diagonal and toasted
Toast with steak – *directions below
Champagne Living's favorite toast with steak tapas
Ingredients
• 1 large piece of tenderloin beef
• Salt and pepper to taste
• 1 french baguette
• 1/4 cup extra-virgin olive oil
• 1/4 cup flat leaf parsley, minced
• 2 cloves garlic – minced
• 3 campari tomatoes – sliced
Directions
Season the tenderloin steak with salt & pepper. Cover with plastic wrap and let sit at room temperature for about 10-15 minutes.
Mix the olive oil,  minced garlic and parsley in a small bowl.
Slice the camari tomatoes and set onto a piece of aluminum foil and fold inside the foil (I make a packet or envelope)
Turn on your broiler
Put under the broiler until they pop (3 or 4 minutes) – and remove
Slice the bread into ¼" diagonal slices and place the slices on a baking sheet. Toast bread in the middle of the oven for 1-2 minutes until lightly toasted.
Remove from oven and spread each slice with the garlic, oil, parsley mixture.
Grill the steak over a med-high heat on the stovetop for about 4 minutes on each side.
Remove steak and cover with foil for 3-5 minutes to allow the juices to return. Cut the steak into ¼" thick slices. Place one slice of steak on each piece of the toast and finish with a slice of tomato.
When the kids return from trick or treating you won't feel like raiding their goody bags!