Disclosure: This post is a result of a press trip by Mazda to test drive their vehicles.
eeny, meeny, miny, moe catch a Mazda and don't go slow….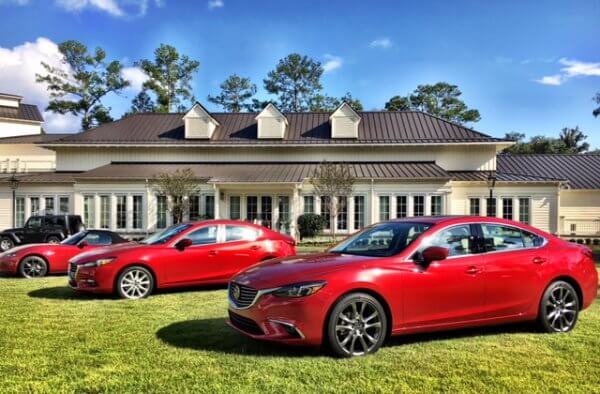 At least that was my motto when I got to test Mazda's full line of autos in the beautiful low country of South Carolina. Country roads WATCH OUT, because you all know how much Zippy loves putting the top down on an MX-5 Miata and cruising…especially when I get to experience it with the Montage Palmetto Bluff Resort and May River as a backdrop (more about the resort in a future story).
With an array of vehicles from MX-5, CX-3, CX-5 and CX-9 as well as the brand new 2017 Mazda3 and  Mazda6 I was hoping to see if I could get into at least
The 3 C's
A convertible
A crossover
A coupe
A room with a view
From the steps of the beautiful Montage during Mazda's Southern Escape meant that you were greeted on the lawn with a bevvy of beautiful SOUL RED Mazdas, and whether you're a millenial, a big family, or even a baby boomer like me, there was at least one or two that caught your fancy.
The Crossover
I am NOT a crossover fan. To me they are just a retooled version of mommy needs more room and doesn't want to look like she's going camping van. They are usually TOO BIG, TOO UNCOMFORTABLE, and TOO EXPENSIVE. That all changed the instant that my driver picked me up at the airport in the gorgeous CX-9 …can you say GREAT OPTION IN LIEU OF A LIMO? This mama bear sized car is JUST right and the trims: Sport, Touring, Grand Touring and the amazing Signature edition that greeted me offer an array of options that will make it easier to make your own than choosing new wallpaper for the bathroom.
The 2017 edition comes fully equipped with the new SKYACTIV-G 2.5T engine that gets a confident 21/27/23 (city/hwy/combined) mpg with i-ACTIV all-wheel drive and the 6-speed automatic transmission and 22 /28 /25 (city/hwy/combined) when in four wheel drive. A beast on the road, yet a mansion on the interior the CX9 offers comfort and luxury with everything you could possibly want in an SUV for just over $31,000.
The Coupe
While I checked out the Mazda3, I really wanted to get inside the Mazda6. It's been a favorite of both Mr. S and I and yet I had never driven one. With an air of European elegance with a design that's got the function for those long drives. (I'm amazed at how the engineers placed everything within reach and eye level).  Driving this car is a real treat, as it hugs the road with plenty of oomph in the engine while making me feel like I was driving a car in a price range that I just can't bring myself to buy. For the couple who needs room in the trunk for 2 sets of golf clubs, suitcases (and comfort) for our snowbird-like roadtrips and the MAZDA CONNECT™ Infotainment Systems that speaks to the tech-junkie in me. Starting at only $21,945 for the Sport edition, $24,195 for the sleek Touring model and $30,695 for the luxurious Grand Touring.
The Convertible
I have a red convertible Saab 9-3 turbo and let me tell you that it doesn't hold a candle to the new Miata. Put the top down, pull back your hair and get ready to hug every curve…most of all get ready to SMILE, because this car is FUN, FUN, FUN. Sporty looking with the appeal of a vintage drop-top only with everything you want at your fingertips, the MX-5 Miata makes me feel it's okay to try and be that old lady chasing her youth in a sports car. I DON'T CARE WHAT YOU THINK OR SAY AS I DRIVE BY, because I'm having a B-L-A-S-T in this car.
Most of you know that after I bought my Jeep 2 years ago I test drove the 2014 Mazda Miata and had SERIOUS buyers remorse. Now I know better!
Check out these
As well as Mazda's full line of great vehicles at your local MAZDA DEALERSHIP and let me know what you think.


Head to your local MAZDA DEALERSHIP or check out ALL of the 2016 and 2017 Mazda's at MazdaUSA.com.