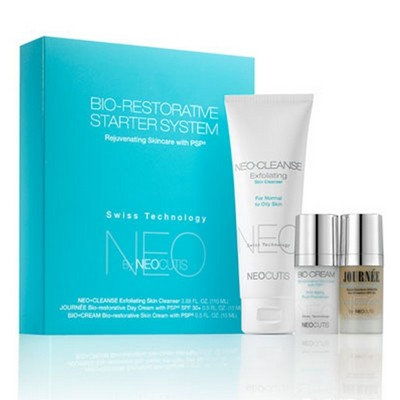 I am TRULY a skin care junkie. I haven't ALWAYS been this way, but once those signs of aging started showing up, I've been obsessed with finding products that really work. I've tried drugstore brands, department store brands, and even spa brands, but until recently I had never tried any of the cosmeceutical products (available exclusively through a physician's office). The last time that I went to the plastic surgeon was over a year ago, when he removed my age/sun spots, but I still get his newsletter. A few months ago, I noticed a product (with before & after photos from my doctor) that made me jump up and take a second look. The doctor's practice that I go to has BOTH a plastic surgeon, as well as a dermatologist, and the practice specializes in "age management" so when they carry a product, I know that it's got to be a GREAT ONE.
I wanted to give it a try, so I contacted Neocutis and asked if I could do a review of their product. They quickly sent me a Bio-Restorative Starter System, their rejuvenating skincare line that is infused with PSP.
Neo-Cleanse – a cleanser that exfoliates dead skin each time you use it
Journée – my bio-restorative DAY cream that protects with SPF30 as it hydrates your skin
Bio-Cream – a bi- restorative night cream packed with PSP to reduce the appearance of wrinkles after only 2 months of use
PSP® is the newest generation of an optimal, naturally balanced blend of skin nourishing proteins and polypeptides. PSP® harnesses the power of human growth factors and cytokines, to help deliver state-of-the-art skin revitalization.
I have to admit, that when I first started using the products, I thought they were a bit harsh, but then I realized that the purpose is to get RID of the dead skin, and in MY case there was a LOT of it. I'll be showing you the entire process very soon, but in the meantime I didn't want you to miss out on this FABULOUS Swiss Rewards system that Neocutis offers it's customer to earn FREE PRODUCT. All of the details are in this video.
If you have difficulty with the video go to:
The BEST part is that you can start redeeming your rewards at the same time as you make your purchases!!