If you haven't been following the NBA playoffs, I'm telling you that even as a NON-SPORTS lover I got caught up in all of the fervor of the games.  For most of them I hunkered down at the mansion for a night of yelling at the TV to LeBron, Chris Bosh, Dwayne Wade, and of course BIRDMAN!! The finals are OVER, the HEAT WON, and today there is a HUGE parade to celebrate in the streets of Miami.
But, the past few weeks have been PIZZERIA nights for sure. Thankfully, I never had to leave to pick one up, or had to pay for delivery as I was asked to review the new DiGiorno pizzeria! style pizzas. Replacing our local pizzeria pizza with frozen was going to be a REAL test, because take-out is such a part of our routine. Would Mr. S notice the difference? Would he complain? Would Ben come over & share when he heard we were having FROZEN pizza instead of our favorite pizzeria?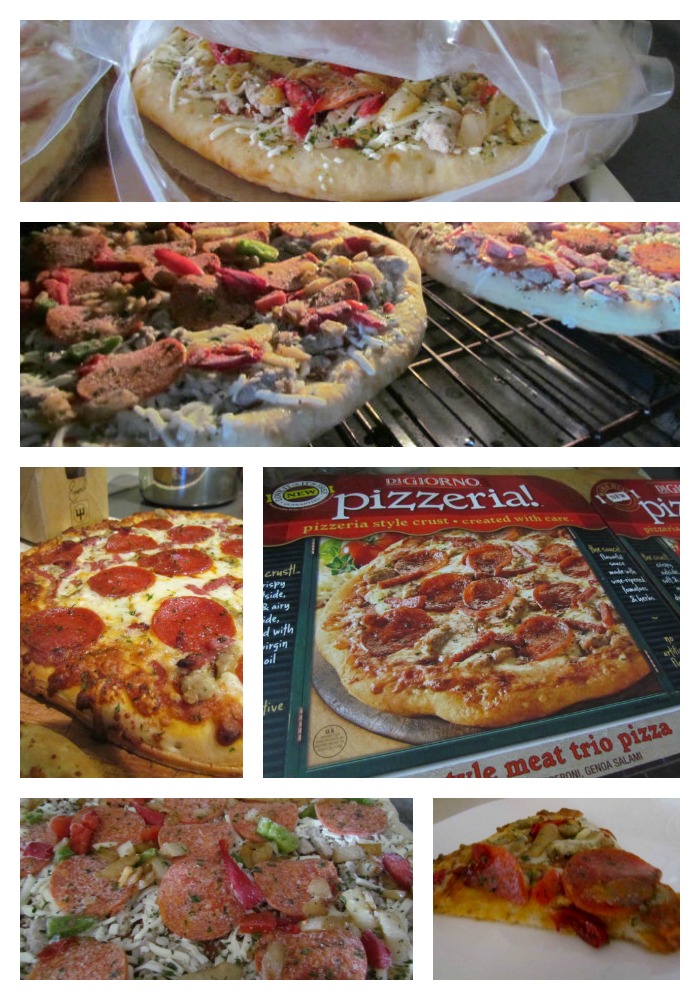 I never said a word. I just put the pizza's on a rack in the oven and let them cook, and brought them out to the coffee table (where we eat during the game). Mr. S loaded up his plate with a slice of the Supreme Special DiGiorno pizzeria! pizza. He KNEW that the delivery boy had not rang the doorbell, and he rolled his eyes (all before even trying it). I held my breath for a second as he bit into it. As he LOADED his plate with 3 more slices, he actually admitted "this is pretty good" (which for a man who used to own restaurants and was a chef, this is the HIGHEST compliment). With that NICE crispy crust, the flavor of fresh tomatoes, olive oil and perfectly sliced pepperoni, green AND red peppers, and REAL Italian sausage, this pizza was a REAL pleaser!
DiGiorno pizzeria! pizza comes in these varieties
Supreme Special Pizza
Four Cheese Pizza
Primo Pepperoni Pizza
Italian Style Meat Trio Pizza
I was lucky enough to also find a DiGiorno pizzeria! pizza in my FAVORITE white variety with spinach in a wonderful creme fraiche sauce with garlic (that I have not seen advertised on the DiGiorno site yet).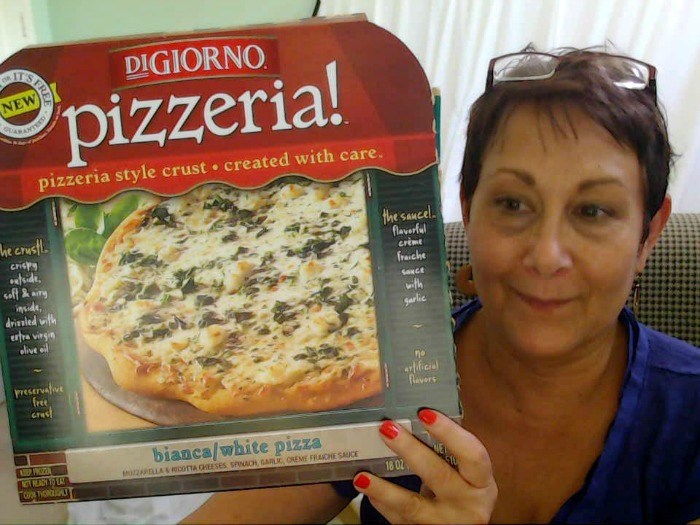 It's immediately obvious that this is a pizza that is created with care (and no preservatives). Will I be buying it again? I already have
TWICE
Because we just HAD to have it during EACH of the games.
Want to try DiGiorno Pizzeria! for yourself?
Win a DiGiorno Pizza Prize Pack!
PRIZE
Two SheSpeaks members will receive a special pizzeria!™ from DIGIORNO® prize pack, including four full value coupons, a pizzeria style wooden pizza peel, a pizza cutter and a chef's quality apron to enjoy pizzeria-style dining in your own home. Simply visit SheSpeaks and ENTER to WIN.
This is a sponsored post for SheSpeaks/DiGiorno