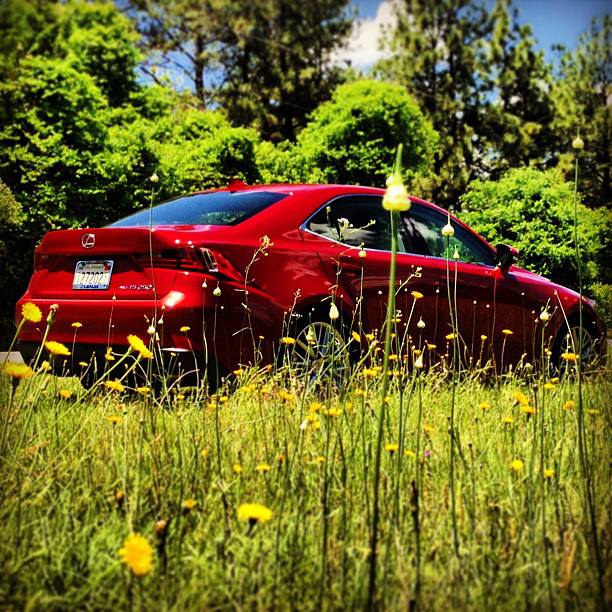 I recently had the good fortune of getting invited to Pinehurst, North Carolina for the debut of the all new 2014 Lexus IS.  I was so excited about this trip (and coming with only a few days notice because Zippy couldn't make it), I just packed my bag and went for it. Two quick flights and I was in North Carolina in a jiff and ready to head over to Pinehurst. INSANITY!
Pinehurst
I arrived at Pinehurst Resort early in the afternoon, and the landscape of the resort as you drive in is one of the most picturesque places I have ever been.  The 20 mile approach to Pinehurst is lush, green and so relaxing looking. I was about to learn that it is this look of luxury that is synonymous with the brand Lexus.  I was greeted with an array amazing gifts (an Everlan Weekend Bag and Illesteva Sunglasses). From there it was up to our amazing room that was fully stocked with Coppola wine, and brews from Highland.
My adventure was about to begin
We headed out to Shady Wagon Farm for dinner and drinks, as well as some entertainment! Shady Wagon Farm is a cool restaurant with a  large open space and rustic feel – the perfect setting for our evening.  Dinner was catered by Mitchell's Catering,  the flavors were amazing, offering us a delicious low country southern flared meal, that was an array of fish and meats that paired very well with our drinks.  After dinner we were treated to an evening with some design experts.  Roy Underhill (from PBS's Woodwright's shop), Ben Owen (from Pottery Live) and Jerry Strickland (Comfortable Couch Company) talked to us about inspiration and design.  We were entertained by a band called Deep Chatham, who played a set for us. YES, they are amazing (their CD has been in constant rotation in my car).
An AWESOME start to our night
We were taken back to our Pinehurst home (a few libations were had so we were taken by bus), but I wasn't ready for the fun to stop.  So after a chat with the guys, we decided to hit the village.  It looked pretty dead for a Friday night, and when we heard music coming from a basement of a bar we decided to check it out.  A KARAOKE BAR!  We sat and had a few laughs with a woman that was a dead ringer for Janet Reno. I'll spare you the details, but I can say that when she asked one of our party to feel her biceps, we knew it was time to go.
A good night's sleep and a LOT of coffee the next morning, and I was ready for our presentation where we learned all about the future of Lexus and went over details of the new Lexus IS.  The IS has an all new suspension system, an 8-speed sport direct shift, and the console has been completely redesigned.  Did I mention that it looks so much faster and aggressive than the previous models?  Because it does!!!   This car is a BEAST, with sexy lines, and curves in ALL the right places.  After checking out the car from the outside, we were off to the track at Rockingham to give it a try.
Lexus 350 IS
Eight-speed Sport Direct-Shift transmission
Larger front brakes with four-piston calipers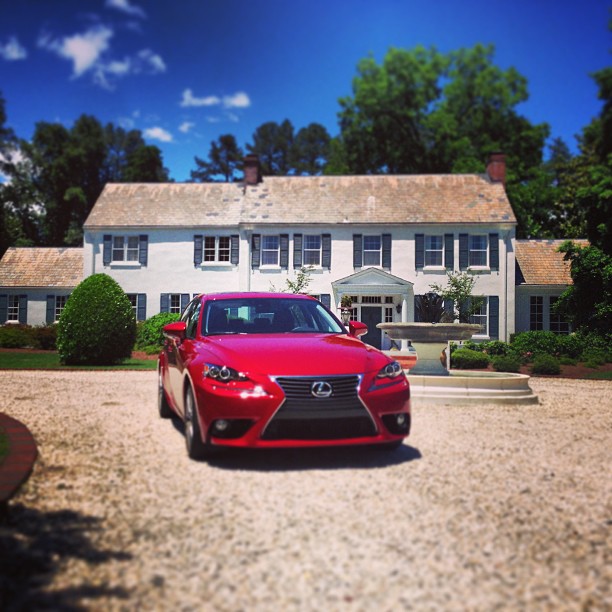 Behind the wheel of the car the only thing I could think of was: "if I were to rob a bank I would like to be driving this car."  It's fast, very responsive and a lot of fun to drive.  It looks and feels like a racing sedan (I know, that's a crazy thought).  When you put the peddle to the metal,  this car SHOUTS FAST!!  Like a rocket thrusting forward with control, the IS gripped the road as we rounded  into the first corner at high speeds. Circling the track, time is just rushing by, and before you know it you're on the second straightaway looking  down at the speedometer and realizing how fast you're going (about 110 mph)… and then it was into another hard turn.  I felt the over steer for a slight second, but the traction control kicked in and went to work, leveling the ride out immediately.  You can drive this car hard and it seems to adjust itself to your driving style.  I spent the afternoon hammering it into turns, driving insanely fast, yet never feeling like I was in any danger because the car was so responsive.
With LOTS of headroom for guys like me (I'm almost 6'2″), a nav system that won't let you stranded in traffic or wondering where your favorite music is, and a speaker system that COULD have your neighbors complaining (but of course you'd never put it up THAT loud), the IS includes the a great drive mode select, that can be set to Normal, Sport or Eco (to compliment YOUR driving style). The Lexus IS engine is available in a 2.5-liter V6 and 3.5-litre V6, depending upon your choice of mode.
Full Throttle Exhilaration
Building upon the quick-shifting, eight-speed automatic transmission with paddle shifters that debuted on the IS F high-performance sedan, the rear-wheel drive IS 350 and IS 350 F SPORT are the first Lexus vehicles to vary shifting with G-forces. By detecting when the IS enters a curve, a lower gear is held throughout for optimal response when accelerating out. And, when pushed to higher rpm, the IS 350 and IS F SPORT models are filled with a throaty engine note that complements the exhilarating performance of the vehicles themselves.
The fun had to eventually end and we went back to Pinehurst for lunch.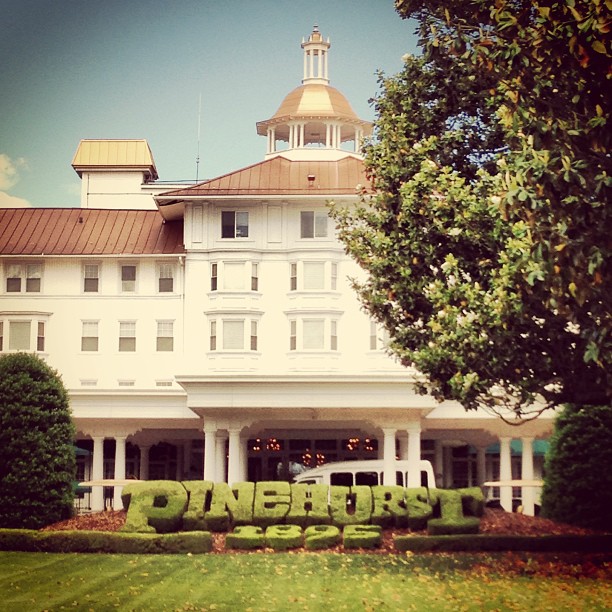 As many of you know I'm on a hardcore health kick, and when I saw the fried chicken and meatloaf we were having for lunch I almost passed on it.  Everyone was talking about how good it was so I decided to give in and have some. This was probably the best fried chicken I've ever had, the batter was sweet like honey (a fried chicken sensation I've never experienced).  The meat loaf was just as amazing,  but we were here to refuel ourselves before taking the cars out again.
This time we were given several routes to try that were all nice and picturesque,  but of course we decided to go off the beaten path and explore on our on.  Before long, we found ourselves in North Carolina fields, woods, the driveways to epic houses (fountains and all) and at fast food joints recommended by locals.  This Lexus drove just as well in a luxury day-to-day setting as it did on the track.
My Take?
The 2014 Lexus IS has done a great job of meshing luxury and performance at a GREAT entry price point. This is NOT your daddy's Lexus, this is an luxury car for MY generation.
Unfortunately, it was soon time to travel back to sunny Florida.  I would have happily done nothing but drive this car for the rest of the month.  It was a great time, and I highly recommend the Lexus IS.
If you ever find yourself in North Carolina, make a stop at the Pinehurst Resort, and if a woman that looks like Janet Reno hits on you, run away…fast!
For full details about the 2014 Lexus IS
A huge thank you to the folks from Lexus, who showed me a great time, and trusted me to drive that ROCKIN' car.