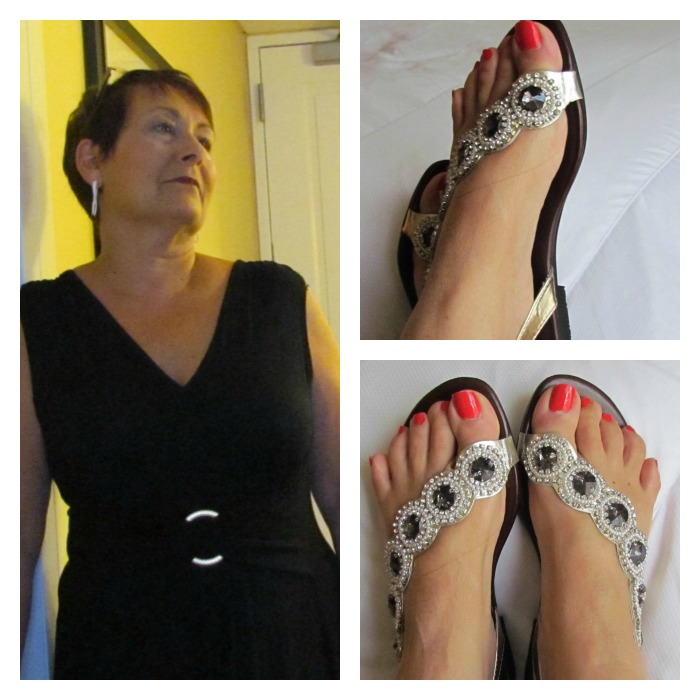 I remember the days of looking at dresses that were trendier, heels that were higher, and beauty rituals that took hours. I'm OVER IT! While I once would look at lingerie and ooh & ahh at how sexy it was, I find myself fingering the fabric now to see if it's "COMFY."
I STILL LOVE GETTING DRESSED UP & GOING OUT
Tonight I'm heading to a fabulous concert while in Atlanta at the AARP Life@50+ conference, and I'm dressing to the nines, but my comfort level will be at 100%, and if you take a look at my photos, you'll see that I haven't given up GORGEOUS style (but I'll be able to handle the dance floor with ease).
The Dress: It's difficult for me to find long dresses, since I'm barely 5'1″, but a week or so ago, when I was heading home from a press trip in "The Other Keys" I saw an HSN outlet. I'd never purchased anything from the TV station, but I figured "what the heck." I walked in to find ALL SORTS of great dresses in petite and grabbed this elegant black JERSEY dress (see what I mean about elegant and comfy). I knew that since it's such a simple black dress that I had to make it look FABULOUS.
The Shoes: I firmly believe that by choosing just ONE STATEMENT piece, that piece will be the one thing that catches everyone's eyes. I'd recently received this gorgeous pair of shoes to review from Fibi & Clo, and IMMEDIATELY knew that they would be that piece of the outfit that would turn heads. The Black Cascade sandals are elegant enough to wear with a wedding gown, yet comfortable enough to dance in ALL NIGHT LONG.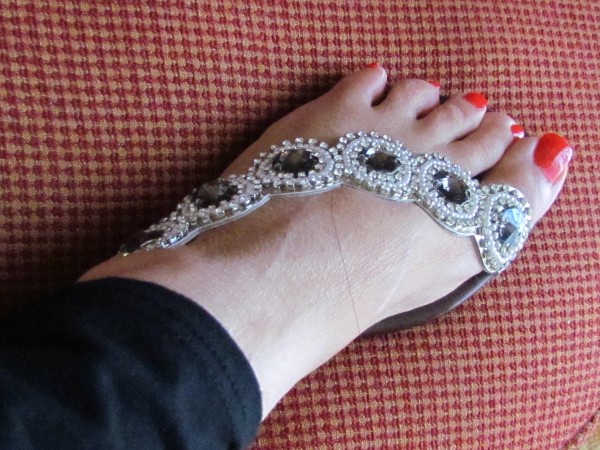 COMPLIMENTS came FAST & FURIOUSLY, as people wanted to see these sandals with a back strap to keep them firmly in place (see, I told you they were comfortable). The concert encouraged dancing and while I had to put my pocketbook down when I hit the dance floor, I didn't have to take off my shoes to dance in comfort.
GORGEOUS
While mine are a combination of black smoke gemstones encompassed by clear stones with silver accents, Fibi & Clo offers them in a multitude of color combinations. The website does not do them justice, and you have to really see them to realize just how stunning they are.
Home Parties and
You can purchase Fibi & Clo shoes and accessories exclusively via home parties or from their online store, and I'm guessing that once you slip on a pair of their FABULOUS sandals that you'll be HOOKED. I know that I am. My next purchase is going to be these beautiful Monaco sandals adorned with HUNDREDS of brilliant crystals.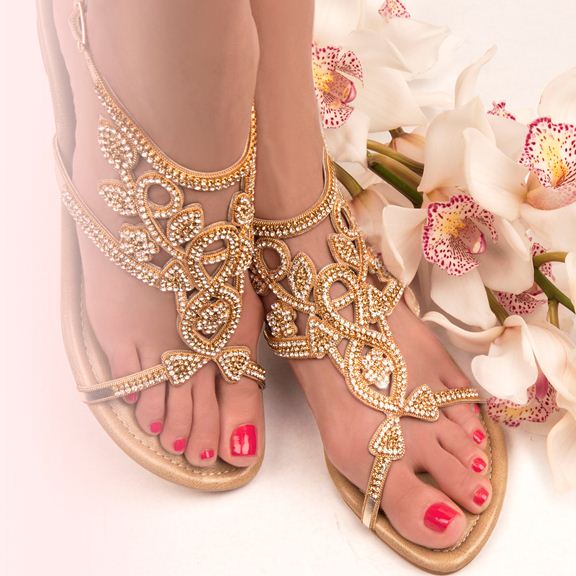 For details go to
I received product to facilitate this post. All opinions are strictly my own.