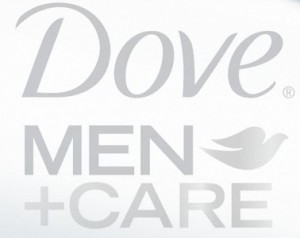 That's right, I didn't misspell anything in the title, I said FORE.  Father's Day is quickly approaching and here in PGA Village it means only one thing. That I'm a golf widow and hubby and Ben (who's actually going to tell you about these new Dove Men + Care products) will be hitting the links. It's dad's day and he gets to choose. Frankly, I hope he has a good round, but I KNOW he'll start off great because Ben and hubby are BOTH using the new Dove Men + Care products. As a matter of fact, they liked them so much that someone has had to go out and buy MORE than what was sent to review!!
I asked Ben what it is that he liked about the Dove Men + Care Clean Body and Face Wash and his answers didn't surprise me. He's visual (that's what happens when you're a film maker) and his first response was that he really liked the manly packaging. He was tired of seeing tubes and bottles in the shower that were obviously just for Steph (his fiancé) and he's a real guy's guy.
He has used both the unscented wash and deodorant (that he was sent to try) as well as the scented version (told you someone had to go buy more), and he actually liked both. Turns out that being clean was essential to starting the day off right at the country club.  He told me that the soap lathered really well, although he wasn't a big fan of the loofah that came with it (too edgy for this guy).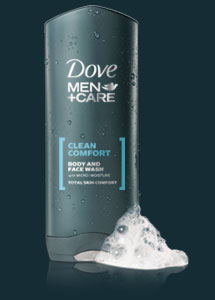 I happen to know that Ben has a terrible time with antiperspirants and although the new Dove Men + Care Deodorants and Antiperspirants are formulated to provide advanced 48 hour protection, so they're tough on sweat and this was a product that didn't irritate his sensitive skin AT ALL (other than Dove Men + Care he's only able to use ONE other, so this is BIG). My big guy's are really soft and sensitive…what can I say?
●New Dove Men + Care, from the #1 dermatologist recommended brand Dove, is built on the brand's heritage in cleansing, moisturizing and care.
●The new Dove Men + Care Sensitive Clean Body and Face Wash clinically fights dryness better than regular men's body washes* and is formulated specifically for men who prefer a mild, unscented body and face wash.
●The new Dove Men + Care Deodorants and Antiperspirants are formulated to provide advanced 48 hour protection, so they're tough on sweat, not on skin.
Pro-golfers Stewart Cink and Davis Love III have both created cool "Journey to Comfort" videos about being comfortable in their own skin for Dove. Cink has already played 14 events this season (and the season has barely started), so he knows a thing or two about staying dry and comfortable under pressure. I love that he talks in this video about how he had to give up a lot when he first got started….looking back, his fans all know that it was worth it.
Right now you can enter to win all sorts of great prizes (in time for Father's Day) from Dove Men + Care. There are daily prizes, including memorabilia signed by Cink and Love, in addition to other golf-related gear.
Simply follow DoveMenCare on twitter and participate in their trivia contest.

You can also enter the Tournament to Comfort game here to play for a chance to WIN amazing prizing, including the opportunity to meet Stewart Cink, a session with Cink's swing coach, a set of custom clubs and finally, a trip to the 2012 tour championship!
Don't forget to pick up some Dove Men + Care to give dad for Father's Day and start HIM on his Journey to Comfort.

We received product to facilitate this review. All opinions are our own.