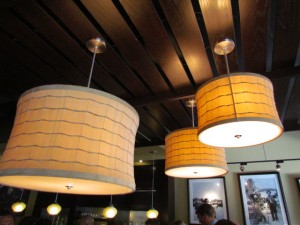 I've been a fan of Dennis Max since I moved to South Florida from the Northeast.  I've always been able to count on wonderful food, ambiance and the perfect evening when I've visited Max's Grille in Mizner Park (or years ago at  Café Max and Maxaluna). My expectations were high when I stepped into his newest venture at the Grand Opening party and ribbon cutting ceremony of Max's Harvest  last week.
Once again, he did not disappoint. Bringing back farm fresh food to the tables of trendy Delray Beach,  Dennis Max has set the bar high. Mind you, the competition in this community of restaurants, shops and galleries is steep, but I don't think that anything comes close to what Max's Harvest is offering it's guests. With foods grown locally (I had the opportunity to meet Farmer Jay from pure organics and Svetlana an egg farmer), Chef Chris Miracolo has developed a menu that will send your tastebuds back to their roots…to great, fresh, wholesome foods with flavor – LOTS and LOTS of flavor.
From the Wahoo Crudo that enters your mouth with a slight crunch and ends with an explosion of serrano chili, to the Heritage Pork Belly Sliders glazed in a bourbon-maple and served with sautéed local peaches and mustard greens on those little slider buns that I couldn't get enough of (I stalked the servers that were coming around until I found the platters of these), the flavors reminded me that real food still exists.   I heard my friend Jewel from JewelsFabLife and my "date" for the evening – Dennis from Joonbug (got ya back for that one Dennis) talking about the Free Range Deviled Eggs with Chives & Truffle Seat Salt, but each time the server came around with them, they were scarfed up by the others before I could get to them.
I did get to grab some homemade Rosemary Potato Chips with an onion dip and the BLT salad was a fun twist on the traditional. The Hand Cut Papardelle with Spring Lamb Ragout is absolutely sublime. WHEN you go, make SURE that you head out back, because the enclosed patio is a beautiful spot to enjoy a drink before heading in for dinner. Thankfully I got to check it out with my friends Jenn Tormo editor at Boca Life Magazine and Victoria Duke of the Academy of Glam.
This is a great restaurant for a date night or a girl's night out.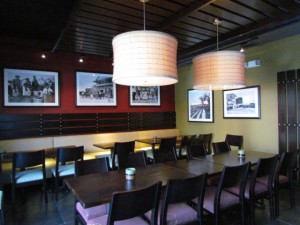 Max's Harvest is located at 169 NE 2nd Ave. in Delray Beach, FL. Dinner 561-381-9970
For more restaurants in the Delray Beach area go to UpTake.com