You always remember your first time. 
I was living in Palm Beach Gardens (about 6 years ago) and I went to visit  my brother in Fort Lauderdale. I mentioned that I'd like to stop at We Take the Cake and pick up a treat. I had seen the show when Oprah announced that their Key Lime Bundt Cake was one of her "favorite things" and here I was, living in Florida and I had never even had one. I remember that taste to this very day.
So began my love affair 
with South Florida's premiere cakery.
But, my love was limited. I moved farther away, and my trips to We Take the Cake became few and far between. Two hours is a long way to drive, even for the BEST of the BEST. It was difficult, but I learned to live with mediocrity. Until…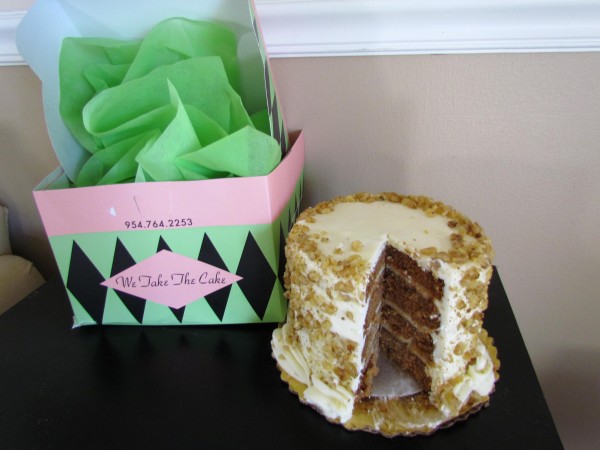 What was wrong with me? If Oprah was getting them delivered to HER mansion, then I could certainly do the same. Which is how I got my husband's FAVORITE carrot layer cake from We Take the Cake in Fort Lauderdale to the mansion. Oh, I'll certainly stop in to the bakery on 1211 N.E. 9th Ave. when I'm visiting Fort Lauderdale, but We Take the Cake SPECIALIZES in mail order cakes.
Let Me Tell You
Mr. S & and owned a restaurant in Providence, RI. We had the most WONDERFUL in-house baker, who went on to open Pastiche on Spruce St. on Federal Hill. Eileen made our all time favorite carrot cake (she also introduced Mr. S and I to each other, so I hold her personally responsible for the past 32 years of my marriage…LOL). Since moving to Florida, we had a difficult time finding a REALLY GOOD BAKERY (among other things). When you come from a foodie city like Providence you get spoiled.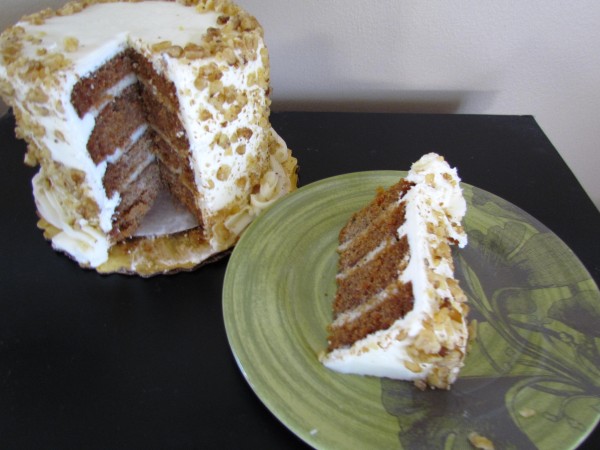 We thought we had tried them all, but when Mr. S's fork went into those four layers of dense carrot cake, spread with a cream cheese frosting that was the PERFECT sweetness (some bakeries over-sweeten cream cheese frosting ruining the natural sweetness) and coated with fresh walnuts we knew that we had found our FAVORITE.
For the First Timer
Yes, we love the carrot cake, but if you're a FIRST TIMER to We Take the Cake…do yourself a favor and order the Key Lime Bundt Cake. There's a reason it's so famous, and you have to experience it.
Oh, and if you're ever in Fort Lauderdale, stop in. You'll be tempted to bring home one of EVERYTHING…just remember that you can always have them ship them to you whenever you like.
Thanksgiving is coming! It's a great time to order your desserts and WOW your guests.
You can order directly from their website: We Take the Cake
or stop in to their bakery at  1211 N.E. 9th Ave. Ft. Lauderdale, FL 33304
I received a carrot cake from We Take the Cake to facilitate this review. The truth is that I'd bought cakes from them many times, so these opinions are my own.