I am participating in a September Dining Days campaign for AARP Services, Inc. I am receiving a fee for posting; however, the opinions expressed in this post are my own. I am in no way affiliated with AARP Services Inc. and do not earn a commission or percent of sales.
Three weeks ago, marked Mr. S' 65th birthday. He wanted to celebrate for an entire week. I asked him WHY he was so happy to turn 65 and he responded, "because now I get all of the discounts."
Silly man
He's been a member of AARP for 10 years now (membership eligibility starts at age 50) and has gotten discounts on all sorts of things through the program, but he is right to be excited about stretching those dollars. I can't imagine how enthusiastic he'll be when I tell him that September Dining Days is on the AARP Member Advantages website, highlighting the excellent restaurant providers that allow Mr. S and I to dine out so frequently.
If you follow my social media, you already know that we're regulars at Bonefish Grill (I've got to have my Bang Bang Shrimp on a regular basis). We met the new manager this past Mother's Day and he always stops over to say hi when we're sitting in our usual spot outside on the patio.
Yes, I live a Champagne Living lifestyle, but did you also know that my AARP card is my secret to getting 10% off on our favorite meals? Because we dine out often, we've gotten to really know our favorite servers and staff. It's awesome to be greeted with "Hi Mr. & Mrs. Sandler, so nice to see you again" before we even give our names to the hostess.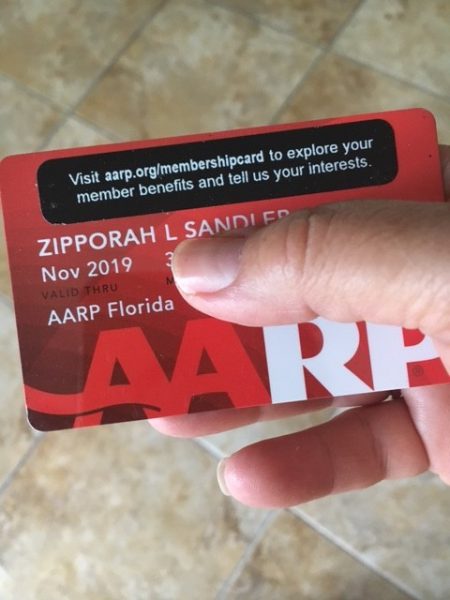 I'm also taking these #SeptemberDiningDays to try some of the dining providers we haven't visited that are listed on the AARP Member Advantages Dining Days page. I've been wanting to take a drive down to McCormick & Schmick's near CityPlace in West Palm Beach. I love a good steak house and since September is a fantastic time to really explore and enjoy all the benefits that AARP offers me, I put it on our Friday date night calendar. What new restaurants are you going to visit during September Dining Days?
Need help deciding? See the decision tree below to help you choose where to enjoy your next dining experience.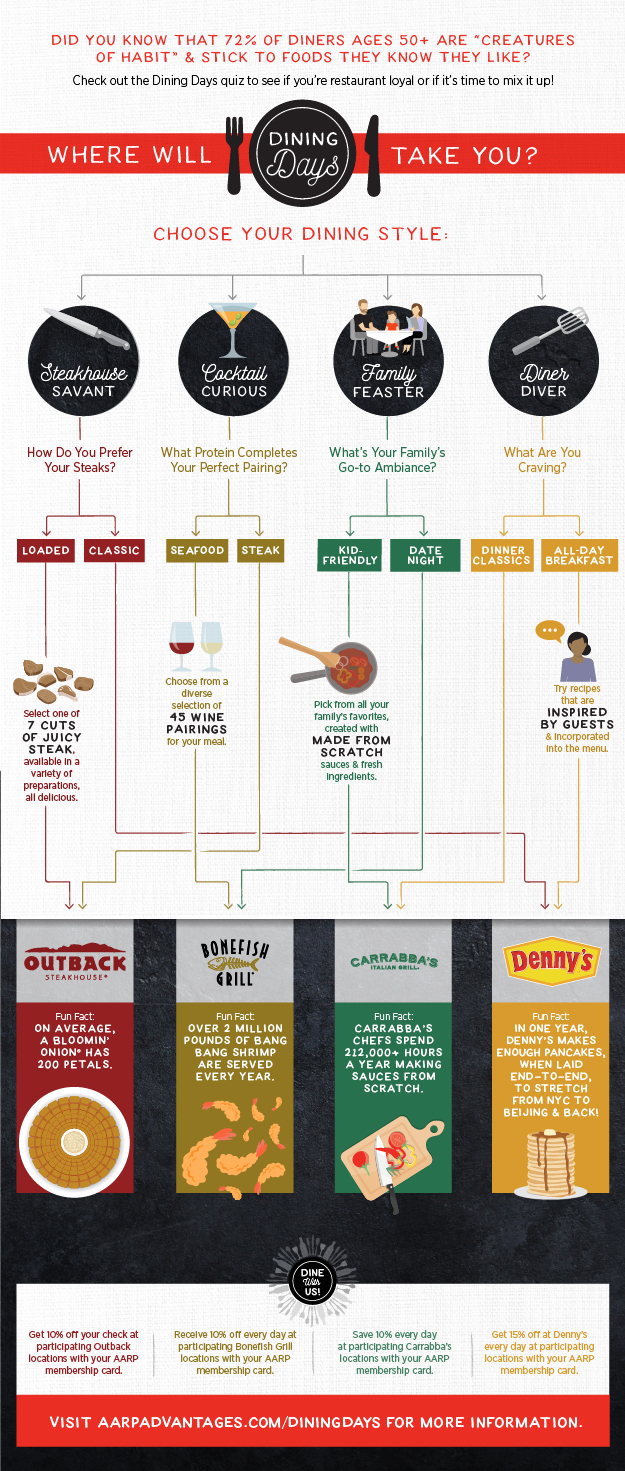 I'm entering and so should you!
This September when you visit aarpadvantages.com/diningdays you can enter for a chance to win $10-$25 Visa® Prepaid Cards every day and ONE lucky person will win the Grand Prize of a $500 Visa® Prepaid Card!!* That will pay for a lot of great dinners!


Head to the AARP Member Advantages website NOW and enter to win: aarpadvantages.com/diningdays
And check out ALL of the great discounts available during #SeptemberDiningDays and throughout the year.
I'd love to see your photos of the great meals you enjoyed with your AARP Member discount, so please share them on social media and make me hungry. And don't forget your AARP Membership card!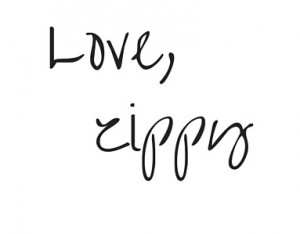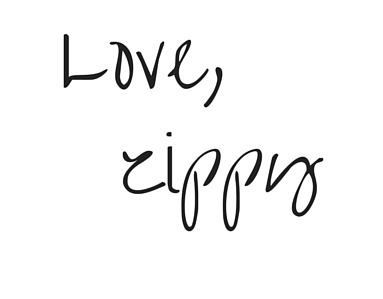 *No purchase necessary.  Must be 21+.  Ends 3 PM. ET 9/30/17.  For official rules, click here. Visa® is a registered trademark of Visa.  Visa® does not sponsor, endorse, or approve the use of its products in connections with this promotion.