I learned about Dole Red Grapefruit Sunrise cups when they sent them to me to review this month as part of a compensated campaign by the Mom It Forward Blogger Network. I put them on my shopping list, because Mr. S loves them.
Fruit cups are for kids right?
Well, not if you're married to a man who LOVES his grapefruit, but refuses to section it out. He'd let those grapefruit in the refrigerator go BAD before he'd take a knife to them, then complain that there was none for his afternoon snack. I was about to give up.
Then….just in time for NATIONAL GRAPEFRUIT MONTH I learned about the all NEW DOLE Red Grapefruit Sunrise Fruit Bowls. It seems fitting that we'd be talking about a heart healthy food in February, for both Valentine's Day and Heart Health Month. But, the REAL reason is, that I actually found a red grapefruit product that I don't have to TOSS OUT, because Mr. S can just grab one (or 2 or 3) and enjoy one of favorite afternoon pick-me-ups.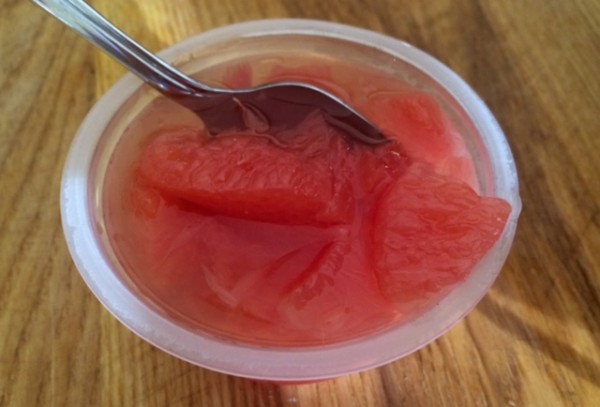 These pre-portioned cups are just the right size to toss in your kids lunch box, in your purse for when you NEED a little something, or for a 62 year old who starts getting cranky around 3 pm if he doesn't get something sweet into him. The fact that DOLE Red Grapefruit Sunrise Fruit Bowls are sweetened with 100% fruit juice, means that he's getting a sweet treat without any syrups, sugar or artificial sweeteners.
My favorite way of enjoying a cup of DOLE Red Grapefruit Sunrise is to toss it into a container of Greek yogurt for a breakfast that's high in Vitamin C. Sometimes I add a little granola for crunch! The combination keeps me fueled up and I know that I'm getting a great breakfast (without any fuss).
BTW…no matter HOW old you are, you're never too old to drink the last of the juice in the bowl. I still do it, just like I did when I was a kid.
DOLE Red Grapefruit Sunrise Fruit Bowls are available at your local grocer in the canned fruit aisle for only $3.99 for a 4-pack. The easy peel-open lids make them husband (and kid) friendly, and with only 70 calories a container, and are naturally fat free.
Keep up with DOLE