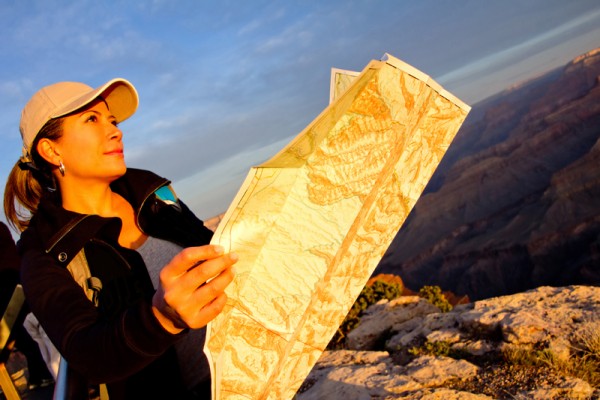 I do it.
I travel alone OFTEN. I love the freedome of being able to go exactly where I want, when I want. It's my favorite way to explore. Now, more than ever, women are willing to ditch their traveling companions and go solo when it comes time to hit the road and see the world.
A recent survey by Small Luxury Hotels of the World, revealed that between 2011 and 2012 there was a 53 percent increase in the demand for rooms by women traveling by themselves. Some hotels even offer women-only floors, which is a GREAT feature.
I do know that there are some precautions that I need to take when I'm traveling solo. So, I asked veteran globetrotter and author of the book "The Confessions of a Librarian: A Memoir of Loves" Barbara Foster to give you some tips.
Here's what she had to say.
"There is no reason to let your fears keep you from the adventures you can experience. Sure, there are risky places and bad types out there. But with the right precautions, women can travel solo with confidence, visiting the places and meeting the people they always dreamed of and returning home with wonderful stories and memories."
She should know she's traveled on her own to Istanbul, Bombay, Buenos Aires, Jerusalem and other locales.She describes herself as a librarian who has difficulty reading flight schedules, and suspects a haggling merchant in an Arab bazaar would view her as easy pickings. But, she made it very clear to me that he would be mistaken.
Foster, who says solo trips can be deeply rewarding for women, offers five tips for traveling boldly while staying safe.
Steer clear of the most dangerous locales.
Simply put, some places just aren't worth the risk, so avoid "no go" neighborhoods, cities and countries. For example, if you feel compelled to go to the Middle East, visit Israel, which is the safest Middle Eastern country. Still, if the destination is truly important to you, go ahead and take the risk. India can be dangerous and Foster says she was nearly kidnapped there, saved only by the intervention of a librarian friend. At the same time, she says, the country offers a once in a lifetime experience.
Connect with friendly contacts.
Make yourself known not only to the U.S. embassy or consul, but also to people in your field, Foster says. During her travels, Foster wrote articles about libraries she visited. Her fellow librarians were a protective group.
Learn the language or at least useful phrases.
Even if it's just a few key words, speaking the language can come in handy if you need to seek assistance. Understanding what others are saying also can alert you to potential dangers.
Dress wisely, pay attention to manners and spend money in moderation.
Essentially, don't draw unnecessary attention to yourself. In her book, Foster recounts a visit to Istanbul where she watched horror-struck as two Turkish men slapped a young British woman for wearing a miniskirt on the street. For added protection against thieves, Foster recommends carrying money and identification in a pouch under your shirt.
Travel in the USA.
You will miss many of the world's must-see places, but if the thought of traveling abroad holds too much stress for you, it might be better to stick closer to home. Foster says two of her favorite U.S. cities are New York and New Orleans, both great places to explore.
Barbara Foster has worked as a college librarian and as an associate professor specializing in Women's Studies at the City University of New York. She has published numerous articles on education and travel, as well as more than 200 poems in literary journals under the name Belladonna. Her latest book is "The Confessions of a Librarian: A Memoir of Loves."