This is a sponsored post written by me on behalf of Daytona Beach Area Convention & Visitors Bureau for IZEA. All opinions are 100% mine.
Our little family consists of…Mr. S, Clem the mini-bull-terrier, Ben (although he's rarely here) and me, so when we take a FAMILY vacation, it's really only Mr. S, Clem & myself (Ben spend any free time on the rugby field or with his friends). Since summer is so hectic (it's press trip season), and it's SO HOT here in Florida, we generally wait to take our vacations when the crowds are gone, the weather is PERFECT, and we know that the summer rains are just about over….FALL. When Daytona Beach asked if we'd like to take a family vacation, we jumped at the chance. Even Clem's four paws left the ground. We were off to take a  DOG FRIENDLY VACATION IN DAYTONA BEACH.
STAY
The Shores Resort and Spa Some people consider their hotel just a place to come back to at the end of the night. We are not those people. We want to know that if we feel like never leaving the property, that we've got everything at our fingertips. We want it ALL and we don't every compromise, even when bringing our dog. It's about LUXURY, COMFORT, LOCATION, and at the same time DOG FRIENDLY, and we found it at The Shores. Some hotels earmark "doggie rooms." They are usually not up to the quality of the rest of the resort. At The Shores Resort and Spa I was able to book ANY TYPE OF ROOM listed with the exception of the Cabana Suites….since they open up to the pool area. Since it's not the "SEASON" yet, prices are still on the low end and they run specials very regularly. Be sure to interact with them via social media for some great specials (I tweeted that I was staying & they gave us two complimentary specialty drinks or non-alcoholic beverages.
SIT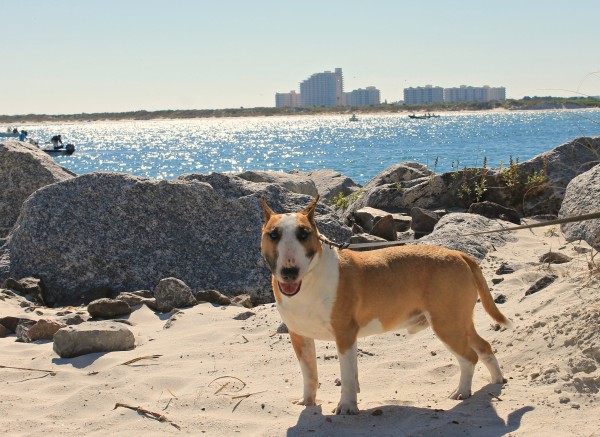 Lighthouse Point Park We love to have Outdoor Fun when we travel…I guess you could say we are beach people, and luckily Daytona Beach has a variety of beaches to match just about everyone's liking, even Clem's. Just a quick drive down to Ponce Inlet, Lighthouse Point Park offers a great fishing area, a boardwalk along the jetty, dune walkovers, and a beach that's DOG FRIENDLY. At $5 per car load it's a bargain. Park and walk down to the right and you'll see pooches swimming in the small cove area. Just be sure that Fido is on his/her leash, as this is not an off-leash beach. We met dogs ranging from Chihuahuas to Golden Retrievers, as well as families, fishermen, and plenty of friendly people to talk to as we pulled our beach chairs near the breaking water and relaxed.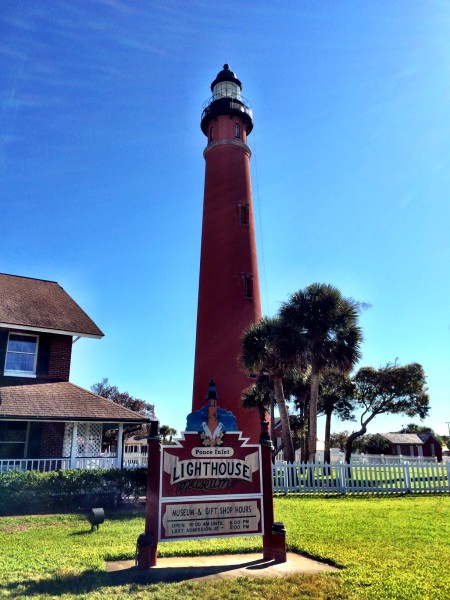 For the 2-legged family members…be sure to check out the historic Ponce de Leon Lighthouse, the tallest lighthouse in Florida. From atop the 203 steps you can see from 175 up, all of the beautiful scenery and beaches in Daytona Beach. Don't forget to stop into the gift shop and museum as well.
TREAT
Rhokkoh's Frozen Yogurt After a day of walking around and having fun, I needed a treat and so did Clem. We headed over to Rhokkoh's after hearing how dog friendly they were. Clem was greeted with a bowl of water and a friendly smile, as Mr. S & I made ourselves over-sized cups of a mixture of some of the daily special flavors and the standards. Of course we had to top them off with all sorts of delicious goodies like fresh fruit, candies, etc. I know we're not supposed to give sugar to Clem, but we did buy a small vanilla cup for him to enjoy as well. Definitely a tail-wagging treat for ALL of us.
FETCH
Pet SuperMarket While there was the usual array of t-shirt shops throughout Daytona Beach, if you're looking for a Doggie-Daytona-T to commemorate your stay, stop into the Pet Supermarket on North Atlantic Ave. They have Daytona Beach T-shirts for your dog. I got the 411 after looking for toddler T's to put on Clem, that just didn't look like a good fit at one of the t-shirt shops that dotted the pier area.
EAT
Blue Grotto While we didn't have the opportunity to stop in, we were told by locals that THIS is the place to enjoy a waterfront meal along with Spot. While they're not advertised as such, we heard that dog's are welcome in the outside dining area. For the humans in your dining party, they have a FAB $7 lunch every Monday – Friday. Of course, packing a lunch and having a picnic on the beach is fun too.
DOWN
Spa at the Shores Resort Vacations are for chilling out, and I love being able to really treat myself while I'm away with a facial or a relaxing massage. Lucking The Shores Resort and Spa has a full spa, and your dog or can can zone out and relax as well as they offer 25 minute in-room pet massages ($55 + tip). Now that's the ULTIMATE in down time!
RELEASE
The best way to release a little tension is to go for a walk and enjoy the scenery. There are so m any Free Things to Do in Daytona Beach, and we spent quite a bit of time enjoying ourselves at Frank Rendon Park in Daytona Beach Shores. There were small pockets of grass for Clem to walk (and potty bags available as well), and we took some time to sit on the benches and look out at the ocean. This is  NOT a dog friendly beach area, but it's fun to watch the families grilling out with friends and kids playing from the park area.
HEEL
One of the reasons that the fall season is so much fun in Daytona is the Festival Capital of Florida and there always seems to be SOMETHING happening around town. We happened to be during a car show and it was fun walking around looking at the vintage-mobiles and thinking I wish I had kept that old (insert car from when you were a teenager here). You can always count on their being a concert in the park, an art festival, a county fair or something fun going on in the autumn months. Whether you want to attend the Daytona Beach Blues Festival or find daily live music at Bruce Rossmeyer's, enjoy the arts and crafts at the Halifax art festival or take in some indie flicks at the Daytona Beach's film festival, you'll find those and  more happening.
DROP
With all of that activity, Clem needed a break. So, we dropped him off at the hotel and Mr. S and I went down to the famous Daytona Beach Boardwalk for a little fun. Yes, I am still a pinball wizard (tossed a few quarters into the machines at the Joyland Arcade), and watched the brave souls take on the slingshot ride. Me? I'm more of a ferris wheel type, as I love to look out from atop the big wheel. We couldn't leave until we had some saltwater taffy, funnel cakes and a cold soda. No matter how old you are there are Kid friendly options as well as options for adults.
COME
We're fortunate to live only 2½ hours away, and frankly it had been a LONG time since we'd been, but after this visit we'll be making sure that we come back soon. I'm thinking that the next time we may leave Clem at home and enjoy more arts oriented places like the Museum of Arts & Sciences, The Art League of Daytona Beach, see a show at the Daytona Playhouse, and I'm SURE Mr. S & I will want to hit the links at the famous LPGA International courses. Now how do we break it to THIS GUY?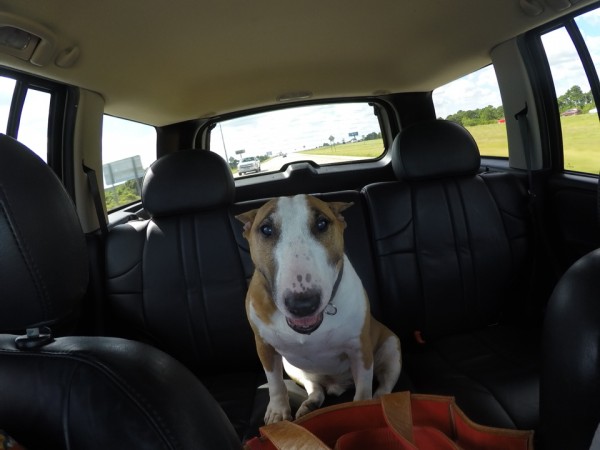 If you haven't visited Daytona Beach in a while, why not come back and explore both your old favorites, as well as the new?
WHAT IS YOUR FAVORITE THING TO DO IN DAYTONA BEACH?
Help me plan our NEXT trip there….SUGGESTIONS are ALWAYS welcome!
DETAILS
The Shores Resort and Spa –  2637 South Atlantic Avenue Daytona Beach Shores, FL 32118 Reservations: 877.705.6197
Lighthouse Point Park and Ponce Inlet – 5000 S Atlantic Ave, Ponce Inlet, FL 32127
Rhokkoh's Frozen Yogurt – 200 N Beach St, Daytona Beach, FL 32114
Blue Grotto – 125 Basin St, Daytona Beach, FL 32114
Pet SuperMarket – 2585 N Atlantic Ave, Daytona Beach, FL
Frank Rendon Park – 2705 S Atlantic Ave, Daytona Beach, FL 32118
Daytona Beach Boardwalk and Pier – 12 Ocean Ave, Daytona Beach, FL 32118
ENTER TO WIN!
PRIZE: A Daytona Beach swag bag including a Visa gift card!
Comment below with one reason why you want to visit Daytona Beach on your next vacation. Then simply click on the words "a Rafflecopter giveaway" below to go to the form.