The reviewer has been compensated in the form of a Best Buy Gift Card and/or received the product/service at a reduced price or for free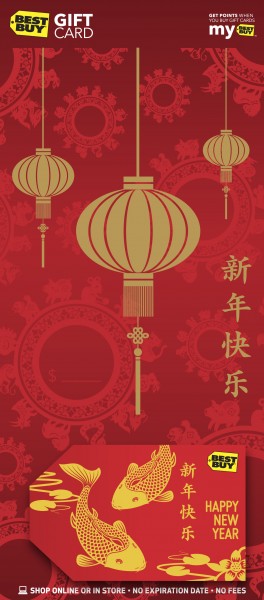 A special gift for the Lunar New Year
The Lunar New Year, also known Chinese New Year, is a traditional festival to celebrate the beginning of the year in lunar calendar. It is one of the most important holidays in Chinese culture. This festival is celebrated from the first day until the fifteenth day of the first month in Chinese lunar calendar.
For Asians all around the world, including Asian-Americans, Lunar New Year not only celebrates the beginning of the year but also the ending of winter and the anticipated arrival of spring.  It is one of the most important holidays celebrated in Asian countries.
Since Lunar New Year is determined by using lunar calendar, the date of the festival varies from year to year in when it comes to our calendar. This year the Lunar New Year Begins on Thursday, February 19, 2015.
This year Best Buy is releasing an awesome limited edition gift card to commemorate  this amazing holiday. Now you no longer are stuck buying a plain gift card to celebrate such an important day.
To commemorate this amazing new gift card here is my list of the top Chinese films to purchase with your Lunar New Year limited edition gift card.
CROUCHING TIGER HIDDEN DRAGON
This film blends story, well-choreographed action, and a stylistic eye to create a mythological piece that not only represents the wu xia genre justly by doing it well, but also contributes to raising the quality of filmmaking usually applied in the making of a similar type of film.
IN THE MOOD FOR LOVE
I love Hong Kong art-house film, and In the Mood For Love is the best of the genre. Taking a lot from classic Ozu film principles. Beautiful film set in 1962 Hong Kong about a man (Mr. Chow) and woman (Mrs. Chan) who become close friends when they suspect their spouses are having an affair. Stylistically, this film is of the most beautiful I have ever seen.
KUNG-FU HUSTLE
It's wacky, stupid, and hilarious. It's a fun use of CGI. It's a simple rogue finding redemption story wallowing in the silliness of the kung fu genre. This is about the silly humor and kung fu action. I love the silly broad humor. I like the wild kung fu action but there may be a little too much of it.
To order Lunar New Year gift cards