Most of the time I'm off gallivanting on my own (or on group press trips), my travels just happen to be what I do for a living. Still, there are times when Mr. S and I like to get away for a few days on our own….no camera, no notepad, no interviews, and no touring the property to see ALL of the rooms in the hotel. Just the two of us….
AND CLEM
Mr. S is a PAIN IN THE NEVERMIND, when it comes to taking trips within driving distance of the mansion. Did I  mention he thinks EVERYWHERE on this continent is in driving distance? He just loves having his favorite miniature bull-terrier along for the ride, but finding dog friendly accommodations isn't always easy (unless you're planning on staying in that flea bag hotel – and Clem does NOT like fleas).
One of MY favorite mini-vacations for a barking good time is a stop in beautiful Delray Beach, FL. It's perfect for a quick overnight, as it's barely an hour or so from home.
My first order of business, reserve a night using my free Welcome Rewards from Hotels.com. I LOVE the fact that I can get a discounted rate on my stay and STILL earn points! That means that I'm not stuck using my points at ONE hotel chain! Yes, the world of travel just got easier (and cheaper).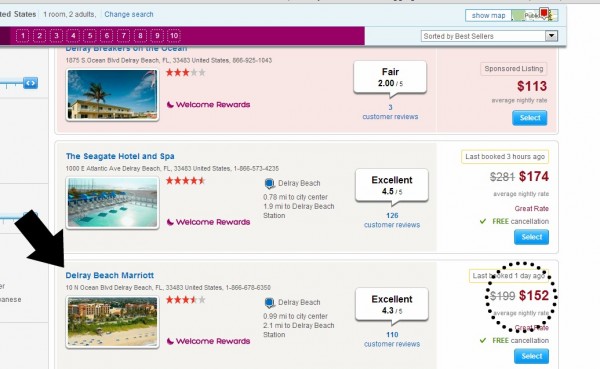 My choice? The classic Marriott Delray Beach. This grand hotel sits directly across from the beach, with all the amenities you'd expect to have at a resort hotel, and YES, PETS are VERY welcome. The variety of accommodations runs from a King size room, to a 3 bedroom ocean front villa. At the current Hotels.com price of only $152, this is a STEAL of a vacation. Also available on Hotels.com I found the Residence Inn, located right on Atlantic Ave. (also dog friendly).  This hotel was listed on Hotels.com for only $119 per night (as I write this post in August).

You know me….I like to do things in that  Champagne Living style, even if it's letting loose for a bit, and let loose I did at the Sandbar at Boston's on the Beach. With some great beach music, a tiki hut bar, and drinks that say "VACATION TIME" I grabbed a cold one and did a little chilling out. I just needed to get into holiday mode before heading to what Clem thinks is the BEST DOGPARK in Palm Beach County! Located at 1455 Lake Ida Road, Delray Beach, the dog park at Lake Ida boasts 2 areas for large breeds and one for the smaller pups (at 35  40 lbs. I never know which to put Clem in). The entrance is double gated, making it secure for your favorite canine, and offers a paved dog wash station, fido fountain, and dog bag dispensers. This is Disney for Dogs!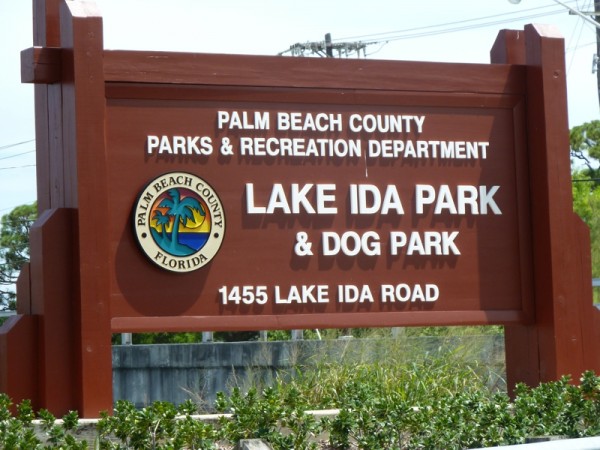 All tired out and ready for dinner, we feed Clem and take him WITH us for dinner. That's right, most of the restaurants along Atlantic Ave. are dog friendly as well, with outdoor seating. We head over to my favorite (I drive down JUST for dinner sometimes), Max's Harvest. This farm to table restaurant is ready for Fido (and Clem) providing water bowls in the outdoor dining area. Of course I slip him a bit of my pan seared diver scallops when no one is looking. Check out the specials while you're there. Since they rely on locally grown and harvested foods, the menu is always changing (if you get lucky they  might actually have the squash buds available – YUM).
Tuckered out from the great food (and wine of course), we meander back to our hotel room, or should I say ROOMS as we had a 2 room suite with a view that you couldn't beat.

In the morning it was straight to the beach for us. DOG BEACH that is. Head down to the NORTH end of Delray Beach for a dog friendly stroll and romp in the waves. Beach chair, towels, fresh water (and a bowl)…what a great way for the three of us to spend the day. We head there either VERY early or late, so that the sand isn't too hot on Clem's delicate pads. Don't forget the sunblock for ALL of you (dog's can sunburn as well).
There is SO much to do in this area, whether you bring Fido or not. We tend to do short one-night trips, as it's close to home, but I have friends who come here to enjoy the great dining, beaches and fun activities for long vacations as well.
Thank you to Hotels.com who provided me with points for my stay. Ocean Properties for their hospitality and press trip that I took last month, and the many restaurants who providing me great food and information during this and other stays.
For more information