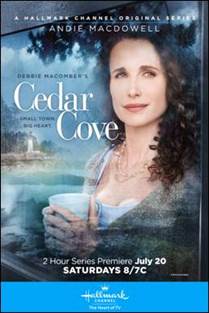 No, I'm not off on another press trip.
Not YET anyway. Instead I'm spending tomorrow hanging out with my cousin who's visiting, and going to one of my FAVE shopping mecca's – Sawgrass Mills. Even THAT is pushing it after all of the flying, horseback riding, and running around Aruba that I did last weekend. If I had my way, I'd be crashing on the couch watching the Hallmark Channel's new original series, Cedar Cove starring Andie MacDowell based on the bestselling books by Debbie Macomber.
It's a beach read on TV!
I missed last Saturday's episode (being out of the country), so tomorrow night when I get back I'm planning on pouring a glass of wine, putting on my favorite yoga pants & t-shirt, and pointing the remote control to the TV. That's about as ambitious as I'm getting.
In "Debbie Macomber's Cedar Cove," Andie MacDowell plays Judge Olivia Lockhart, whose Cedar Cove Municipal Court is the professional milieu and social microcosm of issues the judge will face in her own day-to-day life with family and friends. Jack Griffith (Dylan Neal), the editor of the Cedar Cove Chronicle, is a new friend and potential love interest for Judge Lockhart.
Sorry, Mr. S, this is MY TIME! You can watch what you want in the bedroom.
To celebrate this new series we're giving me and one of you a FUN Cedar Grove prize pack:
One (1) winner will receive:
       $50 Amazon Gift Card to purchase the Cedar Cove book series
        Recyclable shopping tote
        Debbie Macomber's 16 Lighthouse Road Book
        Micro-Fleece winter beanie
Follow CEDAR COVE online