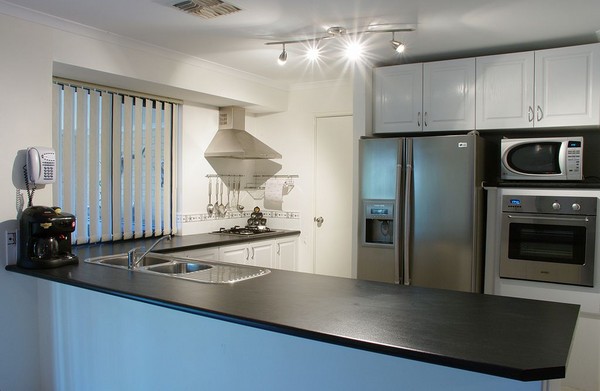 When one thinks of chic interior design, ones doesn't always think of children. Of course, having children is amazing and there's nothing more wonderful than becoming a parent, but it has to be said that when imagining a grown up kitchen space the first things that come to mind aren't necessarily finger painting, plastic toys and primary colours.
A grown up kitchen doesn't necessarily mean having to include all of the things that you could do with kids around – sharp corners, exposed brickwork and precariously balanced knives spring to mind. But it does mean having a bit more freedom to indulge in the more fashionable side of design, without having to worry about your elegant interior getting lost beneath a sea of scuff marks and stickiness.
Design Your Décor
The first choice you should make for your new grown up kitchen is what kind of overall design scheme you would like to install. This means getting to grip with the basics – colours, surfaces, textures, handles, layout etc. The easiest way to do this is by referring to interior design magazines and websites. Home design fashions change with the seasons and what's 'hot' one year may be 'not' by the next. Don't let this put you off having a fashionable design, but make sure to incorporate your own tastes and preferences in order to ensure you kitchen décor retains its appeal over time.
Finding Inspiration
There's a famous scene from British Comedy 'Absolutely Fabulous' in which one of the characters – Edwina – decides to design her kitchen using a single door handle as inspiration. Whilst this may sound ridiculous, it's actually a tried and tested technique that many of the top designers turn to when planning their own interiors projects. This doesn't mean you necessarily have to use a door handle – your inspiration could come from a beautiful tile pattern, gorgeous rug or even a favourite painting.
High Tech Gadgets to Impress Your Guests
Modern kitchens are all about gadgetry and what really makes a grown up kitchen stand out is how high tech your arsenal is. These are the products which not only make your life easier, but are guaranteed to impress any visitors:
Professional chef's knives
A high end cafetiere for proper coffee
An ipod/mp3 docking station
A Panini press for that café experience
Digital nutrition scale for fussy eaters
Popsicle maker – perfect for big kids in summer.