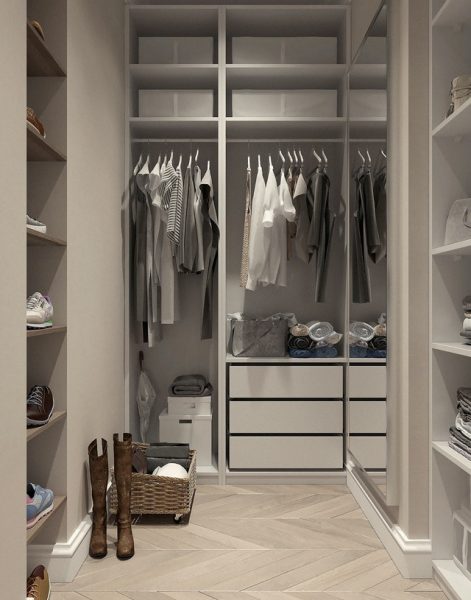 When it comes to interior design, fashion, and even the food you eat, luxury is all about comfort and elegance. Creating a luxurious closet allows you to organize and store your clothes properly so that the final result looks clean and sophisticated while complementing your style.
Whether you're dreaming of a Carrie Bradshaw-Esque walk-in closet or merely looking to organize your closet space, it's possible to bring the high-end touches of a luxe closet into your home without breaking the bank. So, can you create your luxury closet?
Optimize your closet layout.
Don't try to fill your closet with all the shoes, handbags, and accessories you can fit. Even if everything else is perfect, your wardrobe won't feel or look luxurious if it's crammed. When you're stocking your closet, look to high-end stores for inspiration, and consider how spaciousness between articles of clothing and shoes helps them create a sense of luxury.
If you're organizing a smaller space, the best way to combat clutter is to take everything out of your closet and donate or throw away the pieces you don't wear anymore. After deciding which pieces still fit your style, start reorganizing your closet, placing the pieces you wear the most toward the center.
To further optimize your layout, try to maintain some visual space and a line of sight as you enter the closet. While it might be tempting to pack in as much storage as you can, maintaining a breathing room can help your closet feel much more spacious, which translates to luxury. Think about it—your pieces will feel so much more appealing if you leave some space between them, regardless of the size of your closet.
Choose a luxe color scheme.
Before you start decorating your closet, determine what color scheme you're going to use. Painting your closet walls is a great way to instantly transform your room from an ordinary space to a stylish, refreshing area.
Most walk-in closets use white, beige, or light grey paints, as these colors help open up the room and reflect light better. For a more stylish, dramatic look, try adding a bold wallpaper to your closet walls. If you've always dreamed of a fabulous pink closet or a yellow dressing room, don't be afraid to use your style as a guide.
Consider adding a cozy area rug, comfortable seating area, and chic storage boxes to match your color scheme for the best results.
Use your accessories as pieces of art.
Accessories like shoes and handbags are a form of art, and you'll be so much happier if you'll be able to enjoy your favorite accessories daily. To utilize your vertical space, try creating a focal point wall by adding open, shallow shelves.
For the ultimate luxury indulgence, consider installing leather-lined shoe shelves and add a removable shelf for seasonal shoe storage (like sandals, flats, and boots). LED lighting can be used around shelves to cast light onto your favorite shoes and handbags. Alternatively, you can use the upper areas of your closet for off-season shoe storage.
If you have a large walk-in closet with an island, adding open shelving on the backside can help keep your sneakers, house shoes, and everyday shoes visible without showing them off as soon as you enter the room.

Upgrade your knobs and handles.
Decorative knobs and handles are the perfect accessories to showcase your personality and style. Upgrading your hardware is an easy, budget-friendly way to transform your closet. New hardware can make inexpensive pieces look luxe and help vintage pieces feel more modern. Additionally, if you have mismatched pieces, coordinating hardware can help you bring the look together.
When it comes to choosing cabinetry hardware for your closet, countless options are available. Closet hardware comes in a wide range of styles, from contemporary and straightforward to traditional and ornate looks. For a modern look, opt for polished chrome or matte gold finishes.
Before heading to the store, make sure to count the number of knobs and handles you need to replace, snap a picture of the existing hardware in your closet, and take an overall photo of your closet for inspiration while you're out shopping.
Use mirrors to your advantage.
A mirror offers one of the best ways to create the illusion of a bigger closet, whether they're attached to your wardrobe doors or inside. When strategically placed, mirrors can make smaller closets feel like they extend beyond the walls.
If you're not sure where to start, a three-way mirror is your ticket to a luxe look. If you don't have enough space to allocate to a dressing mirror, you can achieve the same effect by installing mirrors to your wardrobe doors. If you place mirrors across from each other, you can tilt your doors to see yourself from every angle.
When decorating with mirrors, don't go for any old mirror. Instead, opt for modern full-length mirrors with chrome or gold finishes for a luxe look. This way, you can hang your full-length mirror over your closet door and reflect light throughout your closet to help your space feel more spacious and airy.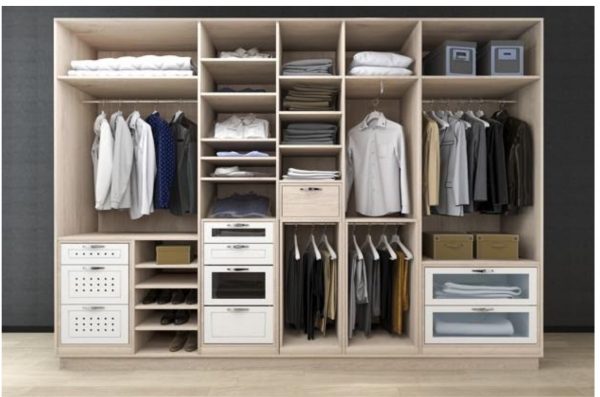 Choose the right lighting.
When it comes to creating a luxe closet, the right lighting is everything. Lighting can dramatically transform your space, set the mood, and make your closet feel more spacious. In luxurious closets, chandeliers and pendant lights are must-haves. Whether you'd prefer a classic crystal chandelier or sleek modern pendant light, your choice of lighting should complement your style while providing sufficient lighting for you to get dressed.
Meanwhile, if you're looking to brighten your space without breaking the bank, some more affordable lighting options include built-in skylights, track lights, small accent lamps, and single elegant fixtures. If you're decorating a walk-in closet, individually spaced fixtures can help you instantly locate your favorite pieces, while subtle lamps are ideal for smaller closets.
Your closet is so much more than a space to store your clothes and accessories. Whether you're looking to upgrade your space or design your dream walk-in closet, decorating your closet for a luxe look can help you create an elegant, relaxing space to get dressed in the morning.
Inspo provided by NovaofCalifornia.com, North America's longest-reigning manufacturer of modern lighting for residential and commercial interiors.