My older cousin is a bit of a Disney fanatic. With no children at home, her china cabinet is full of porcelain princesses and villains that remain from her childhood and the films that she took her daughter to growing up. She comes down to Florida yearly (and stays for the season), and ALWAYS makes her trip to the park.  I used to think she was a little eccentric, until I realized that you don't have to be a kid to love the magic of Disney. Since moving to Florida seven years ago, I've been to Walt Disney World with adults MORE than I had when Ben was a child…so, I get it.
Over these past few years I've heard about the fabulous parties and signature holiday events that Disney holds. I knew that they offered advanced screenings to Disney blockbusters and  exclusive tours of the Walt Disney Studios Lot and Walt Disney Archives, and of course those special experiences at Disneyland Resort, commemorative events across the U.S. What I didn't know was HOW to get involved.
D23
We all know what the "D" means…but 23? Disney Studio's birth was in 1923. To commemorate ALL things Disney they have created an incredible club just for the Disney lover in all of us.
No, this isn't a blogger thing
I'm not talking about press parties and blogger events. I'm talking about a membership that's available to ANYONE who wants it. Disney will open these doors to YOU, with their D23 Membership, the ONLY OFFICIAL Disney fan club.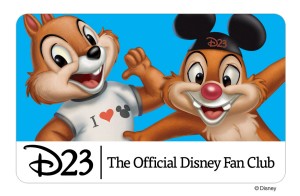 What's the big deal?
The big deal is that you'll get the inside scoop on everything Disney via the exclusive Disney twenty-three magazine, informative website and online newsletter. You'll experience memorable events, get in on money-saving discounts & special offers, and complimentary gifts.
Wait…there are options?
With 2 memberships D23 is affordable, at under $35 per year for a silver membership, you'll receive a  membership card and personalized, suitable-for-framing member certificate, 2012 Annual Membership Gift, and D23 Calendar (23-month calendar which celebrates 75 years of Disney feature animation). Upgrade to GOLD and you'll also get….
The Magazine
Available with the D23 GOLD Membership, this magazine arrives  boxed and shipped to your home like an elegant gift each month. Tucked alongside the beautiful photographs, hot interviews and an insiders look at Disney is a surprise collectible gift. If you're like my cousin, it will go RIGHT into your china cabinet. If you're like me….it will find itself among the tin-toys and funky art that I collect.
Exclusive AND you save money?
YUP, D23 Members get discounted tickets and oh-so special offers not available to others. You'll be able to score discount tickets to those Disney shows on Broadway (like Newsies), special deals at the Disney Store, and even savings on the SuperShuttle to get from the airport to your next Disney vacation. D23 even goes on to give discounts on unique gifts from Brookstone, LittleMissMatched, Apricot Lane and the ABC TV Store. You'll be updated bi-weekly via e-mail with the exclusive D23 FanFare so you don't miss a THING!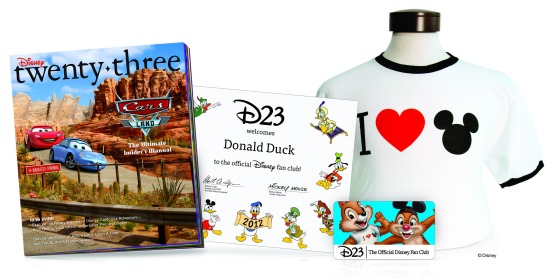 The BEST PART
Members of D23 are invited to the once a year D23 EXPO, held each year for UBER fans at discounted prices.
 D23 Expo 2013: The D23 Expo, the greatest gathering of all things Disney ever in one place, is "The Ultimate Disney Fan Event." The event is open to the general public, but D23 Members receive an exclusive discount on tickets (on sale August 9, 2012!) to this bi-annual event. The next D23 Expo will be held August 9 – 11, 2013 at the Anaheim Convention Center across the street from Disneyland Resort. Past Expos have featured talent like Johnny Depp, Dick Van Dyke, the cast of Marvel's The Avengers, the Muppets, Miley Cyrus, Billy Crystal, and scores of Disney Legends and luminaries.
Why am I telling you all this?
Because today it's holiday gift giving time and because you're a Champagne Living reader – you can get 10% off of the cost of membership with our shopping code. This is the PERFECT gift for my cousin, your cousin, anyone who LOVES Disney. As a fan myself, I may just pick one up for MYSELF!
The Details
To purchase a D23 Membership head to D23 at: http://bit.ly/disneyd23 
Click "Join" at the top left corner, add a new D23 Membership to their card and at check out enter the promotional code to receive the discount.
For 10% off add **CODE: D23CHAMPAGNE (good through December 31, 2012)
**code is good on NEW memberships
What are you waiting for?
You can sooooo cut down that gift list and get your mom, dad, aunts & uncles, and that bestie who always seems to migrate to Disney vacations a gift that they'll cherish ALL YEAR LONG with D23.
For more information
Follow D23 on twitter at: @DisneyD23
Follow the hashtag: #1DisneyFan