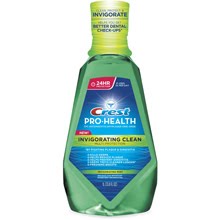 Hmmm….breathe in….still fresh? YUP.
I'm still using the Crest Pro-Health Invigorating Clean formula (I use it twice a day) and I promised you an update after using it for a while. Unfortunately, my dental appointment hasn't happened yet…so, I can't say if the dentist noticed any difference. I can say that I still LOVE using it and my mouth feels so clean.
Do you know how when your tongue hits the back of your teeth you can just FEEL the difference between really clean, healthy gums and teeth and when you're due for a cleaning at the dentist? Well, over the weeks that I've been using Crest Pro-Health, I can FEEL that they are a bit cleaner (and smoother – since I tend to get bad plaque build-up) than when I began. I still can't wait to see what my dentist has to say, but I already KNOW that it's made an improvement.
Will I continue using the Crest Pro-Health Invigorating Clean? YOU BET!
I like knowing that I'm doing all that I can to make my dental appointments less painful (and less expensive – since I'll have healthy teeth and gums). Plus at around $4.59 a bottle, it's an inexpensive way to help ward off expensive problems later on. With 6 benefits in one, I can be assured that not only is it EASY to rinse my mouth, but I'll also be
Killing Germs
Help Prevent Gingvitis
Freshen my Breath
Reduce Plaque build-up
Keep my teeth cleaner – LONGER
Feeling Confident
I don't know about you…but for the same amount of time it takes to swish the "other" mouthwash, I'd rather know that what I'm using DOES IT ALL.
I wrote this review while participating in a test drive campaign by Mom Central Consulting on behalf of Crest and received a sample to facilitate my candid review. Mom Central Consulting sent me a promotional item to thank me for taking the time to participate.