I participated in an Influencer Activation on behalf of Influence Central for Crepe Erase. I received product samples to facilitate my review and a promotional item to thank me for my participation.

The worst part of getting old (with the exception of my memory getting a bit foggy) is the WRINKLES. I expected them, and just as I imagined they began showing up by my eyes, my lips, my sagging jawline…but who knew that wrinkles can happen all over your body? Sometimes I feel like wearing a turtleneck and hoodie, with big dark glasses even in the middle of winter. UGH…
I decided that 2015 is the year of fixing things…at least fixing ME (the house can wait).
About four weeks ago, I began testing Crepe Erase, a new product that claims to reduce the crepe-like appearance of aging skin on the neck, chest, arms and legs
How I used the product:

Step 1 in the Crepe Erase™ system, is the Exfoliating Body Polish.  As you can see on my fingers (first two photos above), this body polish containing TruFirm™, a breakthrough firming complex that helps rejuvenate aging, dry, crepey-looking skin on the neck, chest, legs, and arms, has tiny exfoliating beads. It gently exfoliates rough dead skin cells, to help reveal smoother, more resilient, younger-looking skin. I use it daily in the shower after washing. Exfoliating the area, helps to promote healthy skin cell turnover and can improve your overall skin texture.
Step 2 in the Crepe Erase™ system is the Intensive Body Repair Treatment. This ultra-rich formula contains the patented TruFirm™ complex, that firms the skin with a rejuvenating blend of botanicals. It is EXTREMELY emolliant, and I noticed my skin became visibly smooth as I applied it. Over time it firms and tightens the look of aging dry, crepey, skin on the neck, chest, legs and arms as I was using it, with nutrient rich, super-hydrating oils, providing all-day moisture and protecting the skin. Over time the skin begins to appear smoother and firmer, giving you a more youthful appearance.
After four weeks here's what I found: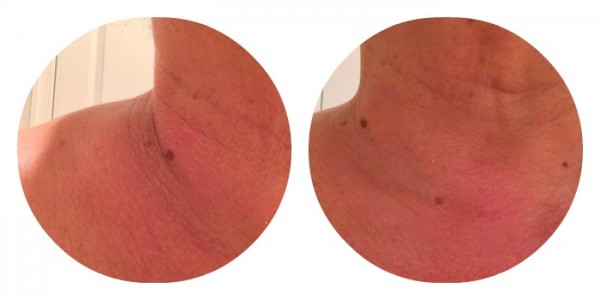 I saw a significant difference in the depth of some of the smaller wrinkles after four weeks. No, they haven't all disappeared, but I do see results, and this is only after one month of using this two-step system. If you go back and look at my first impressions of Crepe Erase, you'll get an even CLOSER look at just how awful my wrinkles (yes, and my turkey neck) were. While most products that I use concentrate on firming the FACE, it's nice to see a product that can help firm the neck, chest arms and legs. Now that I've seen an improvement in the one area, I plan on using it higher up on the neck and lower onto the chest, so that I can wear V-Neck shirts and show more skin this summer.
If you're interested in trying Crepe Erase you can get more details at: