Guest post by Katja Presnal
Staycations may be so 2009, but luxurious backyards that create a relaxing oasis for you to enjoy every day are trendier than ever. Even if gardens and pools, and the landscapers and the pool boys that come with them may be too much for your wallet, don't worry, you can live life to the fullest with a smaller budget. The biggest outdoor living trends for 2011 focus on going back to basics and these elements: fire & lighting, dining and simple upkeep. With a few simple tricks you too can create a backyard that turns into a place of relaxation.
I created this backyard makeover on a budget with products from a large mass retailer but with a few tricks I was able to make it feel luxurious. You can read the detailed instructions how I created it with the exact products and where to buy them, and read more in my extensive outdoor living feature at Skimbaco Home, but here are some of my tips for creating the ultimate staycation relaxing oasis for your backyard without spending a fortune.
1. Think double duty.
I created a sitting area with lounge chairs in the sunniest spot of the yard for sun bathing during the day, and enjoying an afternoon iced tea. The spot turns into romantic spot for after dinner drinks by the fire, when you add a fire pit with the chairs. Flower stands turn into tables easily with place mats or trays when you need to create a quick table just for you, or extra tables when you are entertaining. Ottomans are great for lounge areas, and turn into tables or extra seating when needed. Think how everything in your yard can have a double duty, and you can save a lot of money when purchasing items, and you will get more out of your yard.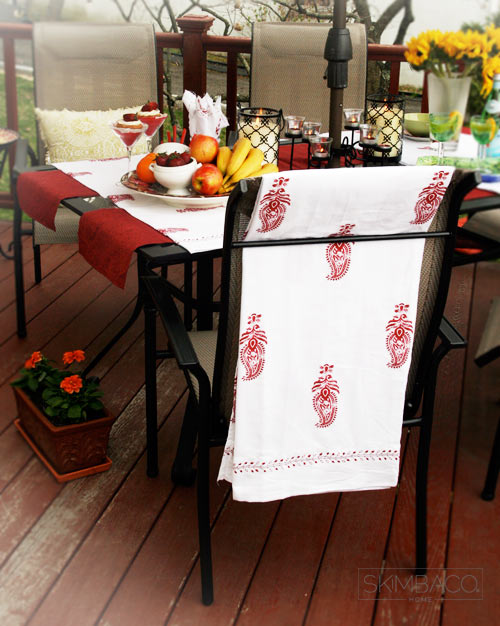 2. Bring indoors out.
Fabrics, pillows, rugs and everything you typically think as indoor decor bring your backyard alive and make it more inviting. It's OK if you can't purchase outdoor products that are weather proof, you can use indoor products, just remember to cover them from rain when needed. Good tip is to have a bench with built-in storage (see how I think double duty on everything?). When you redecorate your home, think if the old items you no longer want indoors could become luxurious items outdoors. Simple things like forgetting about plastic dishes and using nice china outdoors makes a big difference. Nobody has to know it's china from mass retailer, from last millennium or from drift store. Even if it's mix-matched it will look better than any plastic or paper plates!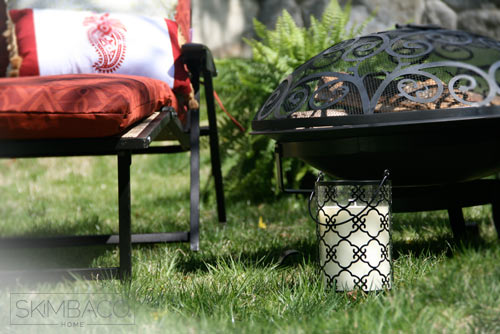 3. Add some fire!
Nothing is trendier than outdoor fire places and fire pits, and they can be found from all mass retailers, starting for under 50 bucks. Fire brings back memories of old summer camps and S'Mores, and nothing is more romantic than sipping champagne and snuggling in the front of the open fire on summer nights. If you already don't have a fire pit in your yard, I highly recommend it. Add luxury to it and add inviting chairs, and lanterns around it, and make sure you have blankets around too for colder nights, this way you can extend your outdoor living enjoyment from early spring to late fall.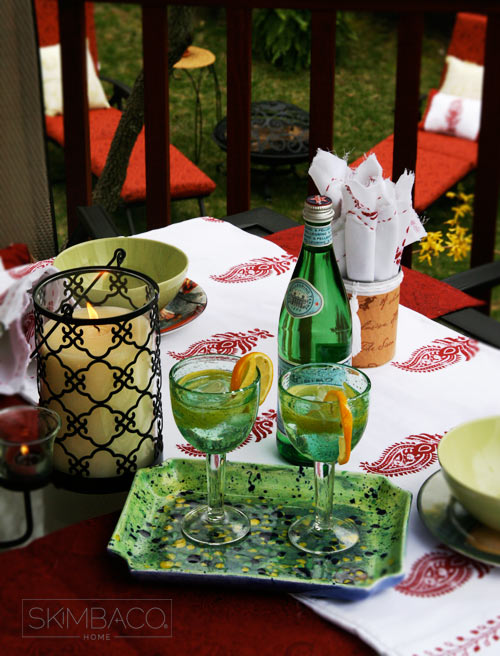 4. Simple flowers & plants.
Gardens that tolerate drought, and plants and flowers that don't need constant watering are in, and the "double duty" plants that look good and you can eat too are now very trendy (think tomatoes, berries, fruit trees..). Even if you have a small patio, you can get herbs in small pots.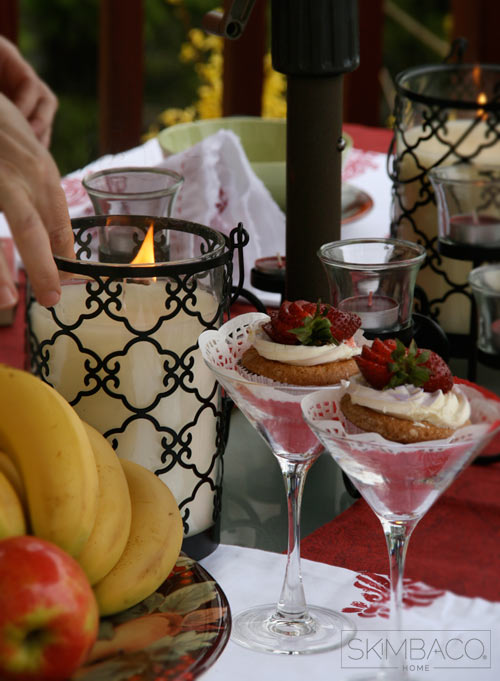 5. Make BBQ & outdoor dining luxurious.
We all want to eat outside during summer time, but hot dogs on paper plates don't appeal to me. With simple tricks you can make backyard BBQ feel more luxurious and that you are on permanent staycation all summer long. Good dining table and seating for everyone is a must, but you can also use foldable chairs to add seating for dinner time, and then storage them close by. Using real china instead of paper or plastic is my best tip for making outdoor dining feel more luxurious, and using a table cloth and napkins (cloth ones really make a difference..) is another one.
Expensive grill is only worth it if you use it so make sure it's one that you will use. Get the grill you like, because then you will be more likely to use it. Additional things to think about. Can you create a small bar area outdoors..? Can you get a blender for smoothies and cocktails and plug it in on the deck? Can you add music in your yard? A simple iPod dock for outdoor use will bring ambiance, but there are also outdoor sound equipment for even better experience.
More outdoor living and home decorating tips in my blog Skimbaco Home, and join me @katjapresnal to talk about outdoor living trends on Twitter on May 12th 8-9EST.
Guest post by Katja Presnal. Katja Presnal is an international lifestyle expert, award winning social media strategist, and the owner of Skimbaco® lifestyle brand and blog network, with the main blog SkimbacoLifestyle.com. Katja is also the Home & DIY channel leader at Lifetime Moms. She has been featured in Better Homes & Gardens, Glamour, NY Times among many other national and international media. She is a popular speaker in conferences and inspires women to live life to the fullest.