If you own a commercial business where employees, customers, and clients will visit, you must have at least one emergency exit door.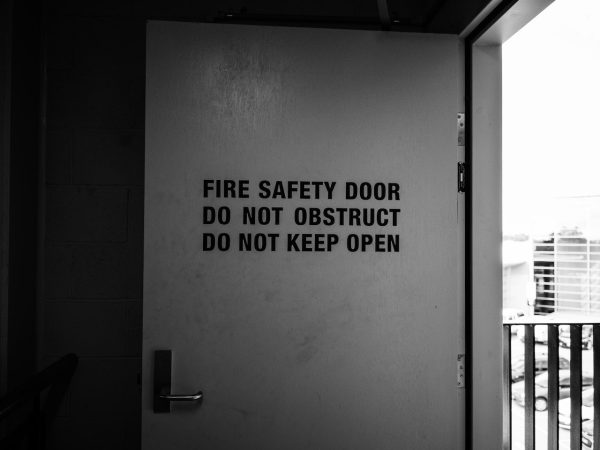 Several governing bodies regulate the laws around emergency exit doors in Australia, including Occupational Health Services Australia (OSHA), which states that employees have a legal right to work in safe conditions. It's your responsibility as their employer to ensure their safety at all times in your building.
In this article, we're going to cover some of the most important considerations that you need to keep in mind when you're installing emergency exit doors on your commercial property.
Legal Requirements for the Installation of Emergency Exit Doors
Here are some of the key requirements that you must follow for any fire exit and emergency door in your building. Failure to follow the below regulations is illegal and could land you in a lot of trouble!
Number of doors
You must have two methods of exiting the building, including doors, stairs, and ramps. In some cases, the number of exits required depends on the maximum occupancy or size of the building.
Door width
Your fire escape doors must be large enough to accommodate the anticipated number of occupants who will be exiting the building in an emergency. They should be wide enough to allow wheelchairs through.
Signage and lighting
There are very specific rules about how emergency exit doors are signposted. They must be illuminated and visible from all locations in the building, and there should be appropriate directional signage to guide people to the exits quickly and easily. You can add extra lighting around your emergency exits to ensure they are well-lit.
Maintenance and testing
As the commercial building owner or property manager, you must ensure that your fire exits are properly maintained and tested. You should check the hardware of the door itself and the surroundings to make sure that they meet the legal requirements.
Panic hardware
Panic hardware includes push bars, panic bars, and touch bars. They are required by law on all of your emergency exit doors designed to enable your staff and visitors to get out of the building quickly in the event of an emergency.
You can purchase panic hardware in a wide range of styles and designs to suit your needs. You can also add an alarm to your door to stop people from using the fire exits when there isn't an emergency.
Why is Steel the Best Material for Emergency Exit Doors?
Emergency exit doors must be made out of materials that can withstand high temperatures. Steel is often considered the most suitable material to use due to its high durability, strength, and fire resistance. Let's take a look at each of these steel door properties in more detail.
Durability
Steel is one of the most durable construction materials out there, making it long-lasting and resistant to wear and tear. It's low maintenance and lasts for several years without needing to be replaced or repaired.
Strength
Steel is one of the best choices when building a strong and sturdy emergency exit door. It can withstand high pressure without breaking or bending, enabling people to quickly exit the building in the event of a fire.
Fire resistance
In the event of a fire, a steel door offers your employees and visitors protection from flames and smoke. Steel is not combustible. It minimizes the spreading of fire and smoke to enhance safety in the event of an emergency.
Steel doors are usually fire-rated too, meaning they are specifically designed to withstand the high temperatures of a fire for a certain length of time, allowing people to escape free of harm.
Sealing Steel Emergency Exit Doors
You'll need to check the seals on your emergency exit doors when they're first installed and at regular intervals once your doors are in operation. The seals prevent fires from spreading, but they're only effective if they are free of gaps.
The professional who fixes your steel fire doors in place will add seals to all of them, but it's your responsibility to check them once they are installed. You'll need to check them at least once every six months and more regularly for doors that experience a higher volume of traffic.
It's also a good idea to check the gaps around your emergency exit doors. They should not exceed 4 mm on any edge or side of the frame. If they're more than 4 mm, you'll need to either fill the gaps with sealant or replace the door with a better-fitting one.