Buying a car can be an exciting experience, but navigating the world of car loans may seem daunting for some. Knowing what to look for and where to find the best deals can help take the stress out of financing your new car. In this article, we'll discuss tips to help you compare car loan options.
Evaluate your credit score.
Before diving into the car loan process, it's essential to have a good understanding of your credit score. Your credit score is a significant factor in determining the interest rate you'll pay for your car loan. A higher credit score can potentially save you thousands of dollars over the life of the loan.
You can obtain a free copy of your credit report from each of the major credit bureaus. You'll want to review your credit report to ensure it's accurate and free of any errors. If you find any mistakes, address them as soon as possible so that they don't damage your credit score. While improving your credit score can take time, it's worth the effort, as lenders are more likely to offer better terms to borrowers with good credit.
Compare lenders and interest rates.
Just as you would compare makes and models while shopping for a car, it's crucial to compare lenders and interest rates when shopping for a car loan. Start by researching local banks, credit unions, and online lenders to get an idea of the available loan options. While you may be tempted to finance your car through the dealership, you could end up paying a higher interest rate compared to other financing methods.
Keep in mind that interest rates may vary depending on whether you're purchasing a new or used vehicle, your credit score, and the loan term. A great resource to help you compare car loan options is an online comparison site. These sites allow you to look at different lenders and their rates. Utilizing this type of website will save you time and effort in your car loan search. Make sure to consider multiple lenders to have a clear understanding of the various offers available to you.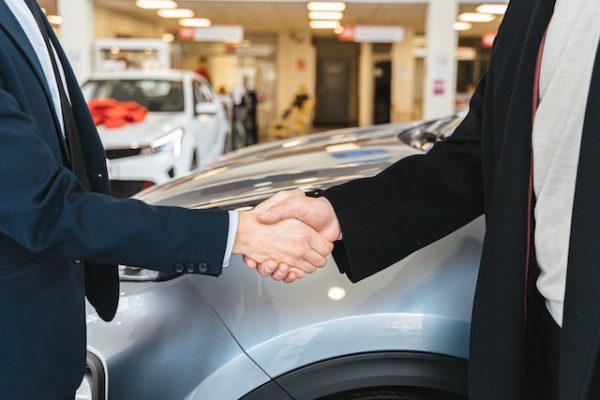 Consider getting pre-approved.
Before you begin visiting car dealerships, consider getting pre-approved for a car loan. A pre-approval gives you an idea of the loan amount you're eligible for and the interest rate you can expect, allowing you to create a realistic budget for your car purchase.
Pre-approval also puts you in a stronger position when negotiating with car dealers, as it demonstrates that you're a serious buyer with financing in place. It can also help prevent the disappointment of falling in love with a car that's outside of your budget.
Keep in mind that a pre-approval doesn't guarantee final loan approval. However, it can give you an advantage in the car-buying process, offering greater confidence, convenience, and negotiating power.
Understand loan terms and additional fees.
When getting a car loan, it's essential to understand the loan terms and any additional fees associated with the loan. Loan terms generally range from 36 to 84 months, and the length of the term can affect monthly payments and overall interest paid. A shorter loan term will result in higher monthly payments but can come with lower overall interest expenses.
When reviewing loan offers, you should also be sure to ask about any additional fees, such as prepayment penalties, origination fees, or documentation fees. These fees can vary among lenders and can significantly impact the total cost of your loan. Make sure to read the fine print and ask questions to have a thorough understanding of the loan terms and fees before committing to any agreement.
Overall, shopping for a car loan requires careful consideration of your credit score, a comparison of lenders and interest rates, and an understanding of the loan terms and fees. By following these tips and utilizing an online comparison tool, you can confidently secure a car loan that best suits your needs and financial situation.