I was provided product to facilitate this post. All opinions are strictly my own.
Scratch & sniff
I wish the Internet had scratch and sniff technology. That was the first thing that popped into my head knowing that I was going to write about Soapbox soap products. Soapbox sent me an oversized box of products to try and the first thing that I unpacked and tried was this amazing Citrus & Peach Rose Hand Lotion and me, being one of those people who normally FORGETS to moisturize my hands found myself going back and pumping every time my hands hit water or felt dry all because the scent is so intoxicating.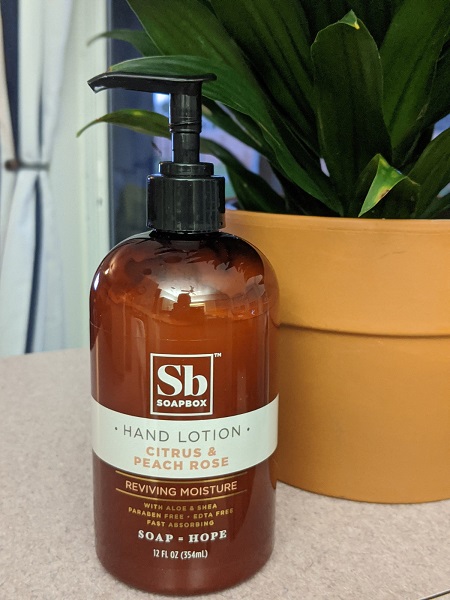 Soapbox Hand Lotion
The scent has a blooming aroma of bright citrus notes perfectly balanced with delicate peach rose…YUM! I learned that the lotion is infused with bataua fruit oil. I'd never heard of it before, but this Brazilian nut is known to rejuvenate your skin, and this hand lotion will improve the elasticity of your skin to make it look and feel supple. Blended with shea butter, aloe, vitamin E, and olive oil formula this lotion will replenish and hydrate all in one to help give your skin the proper care it needs. But more importantly, you'll want to take a deep breath every time you use it because the smell is delicious.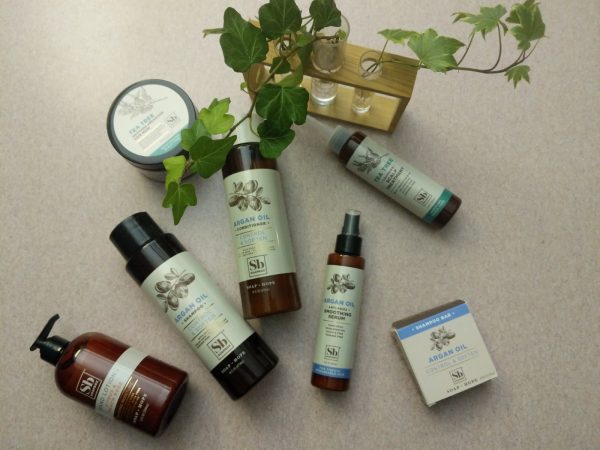 Gray hair – don't care
Except for the fact that once I stripped all of the color from my hair a few years ago, the texture changed….a lot! Now I search for products to give me back my shiny pixie without weighing it down. Plus, it's important that it looks vibrant (since gray hair can look BLAH without the right hair care products). It turns out that argan oil tames the frizz and gives you soft-to-the-touch hair that will help you maintain your tresses for a sleek, soft look, even if you have short hair like mine. Soapbox's Argan Oil Shampoo and Conditioner are packed with vitamin E, this oil helps seal in shine and create a lush look with each wash and leave your hair looking its best without that weighed down look.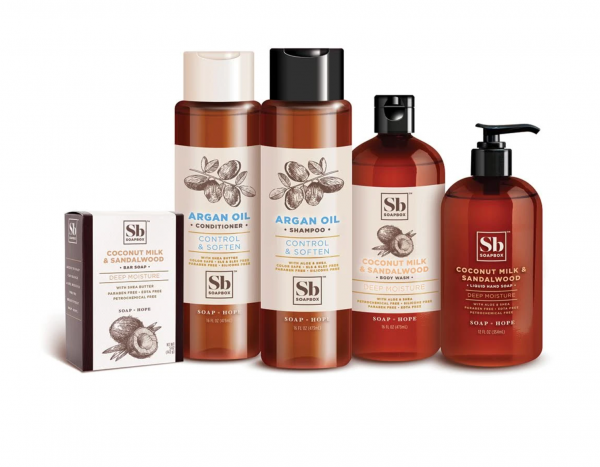 The line of Argan Oil Soapbox products include:
An added PLUS
I have a "thing" about packaging. If I'm in the shower with wet hands, I hate fumbling with small caps, twisting things off, etc. I end up dropping bottles, and yes, I've been known to scream when a big bottle of shampoo comes crashing down on my toe. Soapbox has put large, easy to use caps on their shampoo and conditioner products. Even the jar of their Tea Tree Soothing Hydration Hair Mask (I use it weekly to give a deep moisturizing to my hair and to keep the shine vibrant) was large and easy to use with wet hands.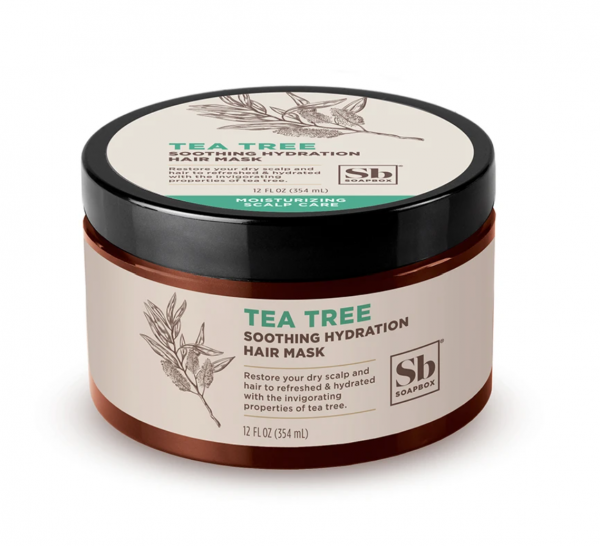 The combination of wonderful ingredients that do exactly what they set out to, combined with scents that make me want to overuse them. I am HOOKED!
A donation for each product they sell
Soapbox will donate a bar of soap to someone in need either state-side or abroad. At the time of my writing this post
more than 7,001,078 bars have been donated
I can't wait to try their body wash and hand soap next.