When it comes to artificial grass, there are a lot of options on the market. And while it may seem like a daunting task to choose the right one for your home's exterior, we're here to help. In this blog post, we'll break down the different types of artificial grass and their key features. By the end, you'll know exactly which type is right for your home. So let's get started!
Consider the climate in your area when choosing artificial grass.
When it comes to installing artificial grass, consider your local climate. It is imperative in extreme climates, as the quality of your synthetic turf can be affected by weather conditions like cold winters, intense summers, and heavy rain. Severe temperatures can cause the grass to become brittle or discolored and expand and contract over time due to heat or humidity levels. In addition, if you are in an area with a high water table, you must ensure that your grass base is adequately prepared. The good news? Most of these factors have solutions – such as drainage systems, better base layers, additional ventilation, and more – that homeowners should consider carefully before investing in a synthetic lawn.
Think about how much foot traffic your artificial grass will get
If you're planning to install artificial grass in Pembroke Pines, FL, you'll want to consider how much foot traffic the grass will get. A well-maintained artificial lawn can sustain more wear than natural grass, but this also depends on factors like the quality of artificial grass, its location and soil type, whether a proper drainage system has been installed, and the kind of footwear that treads it. Make sure to consult with artificial turf professionals to get the perfect synthetic turf and installation plan for your space in terms of durability and foot traffic.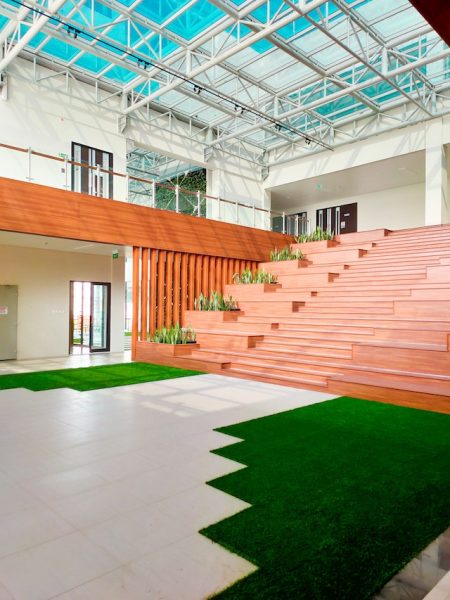 Choose a color that compliments your home's exterior.
Today synthetic turf is made in various hues — from every shade of green to yellow and even off-beat colors like reds, oranges, blues, and more. So, whether you want a more traditional look or you want an eclectic aura, there is turf to suit your aesthetic needs. 
Choose the pile height and infill material keeping in mind usage and your upkeep abilities.
Synthetic turf is available in various pile sizes — short, medium, and large. Apart from that, different infill materials are available, and they come with distinctive features. Shorter piles come with ease of maintenance and resist allergens, while longer blades provide more plush comfort and mimic the look of natural grass. Porous infill materials stand up to climatic wear and drain water more efficiently. 
Be sure to install a drainage system beneath your artificial grass.
A drainage system installed beneath your artificial grass not only helps ensure your lawn looks pristine and vibrant even after heavy rainfall or a downpour, but it can also help to ensure the longevity of your purchase. Without proper draining, your turf could become waterlogged with an excess of moisture, causing it to break down over time. Choosing artificial turf with a drainage system will help guard against wear from the accumulation and fast discharge from rain and ensure that you maintain a hygienic environment. When you invest in artificial turf, installing good drainage will guarantee you aren't wasting money on something that won't last.
Ultimately, choosing artificial grass for your lawn can be an excellent choice for many reasons. It requires less maintenance and resources than natural grass. However, you should still consider various factors when selecting the type of artificial grass that best fits your needs. When choosing synthetic turf for your home, consider your climate, how much foot traffic it shall bear, and which color would complement your home's exterior. Finally, factor in the budget and ease of installation and maintenance for a hassle-free installation of fake grass that would up your home's curb appeal.