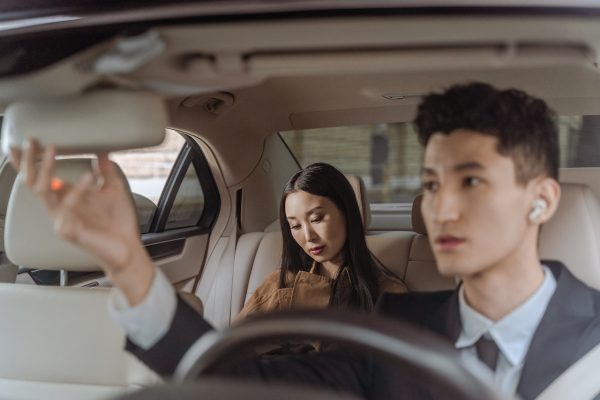 Ever had the feeling of wanting to go somewhere but not wanting to drive yourself there for several reasons, such as not having enough parking space? Or whenever you just landed at an airport, and you're thinking about a ride service that is safer and more comfortable than regular taxis? You're in luck because the market now offers two options for you: Chauffeur service or ride-sharing. 
In this blog post, you will read about the pros and cons of chauffer services vs ride-sharing and what is best for you.
Understanding Chauffeur Services
Imagine this scenario: You're all dressed up. Ready to have a time. This is where the allure of chauffeur services comes into play. They offer more than rides. They provide you with an unforgettable experience. Your luxurious sedan or limousine shines like a gem. With a chauffeur behind the wheel, you'll receive service that feels almost royal. 
Chauffeur services represent elegance and sophistication at their finest, making them the preferred option for occasions that demand style.
Hold your horses there! Don't let the glamour blind you.
Exploring the Ride-sharing Frontier
Let's explore the world of ride-sharing, where modern-day trailblazers are making their mark. It's like venturing onto the side of the road where convenience and accessibility reign supreme. With a tap on your smartphone, you can summon a ride, and before you know it, your trusty car arrives at your doorstep. It's a convenient way to get around. Whether you're embarking on adventures or planning getaways, ride-sharing is there to be your reliable companion.
Cost Comparison: Dollars and Sense 
Your finances greatly influence the type of service you choose. As tempting as it may be to always choose chauffeur services, it's way more expensive than other ride services. The polished vehicles, dressed chauffeurs, and personalized attention all contribute to their allure. 
On the other side, ride-sharing is like stumbling upon a treasure while sifting through a riverbed for gold nuggets. It tends to be more budget-friendly, especially for short hops around town. 
The choice is yours to make if you prefer a limo and airport car service or a Carpool. 
Think Safety First 
Prioritizing safety is crucial. Your life holds value more than any wealth, and both options acknowledge that. Chauffeur services take pride in their professionalism and thorough background screenings. It's akin to having an angel behind the wheel.
However, don't underestimate the simplicity of ride-sharing! These apps utilize ratings and reviews as a tool. It represents the voice of the people unafraid to speak up. Drivers are held accountable, therefore ensuring your peace of mind.
Comfort Factor: The Velvet Cushion or Cozy Corner
Let's focus on comfort now, shall we? Chauffeur services envelop you in an atmosphere. Plush seats, climate control, and a serene cabin create an experience of floating on air. Your chauffeur anticipates your needs like a mind reader, guaranteeing a journey smoother than silk.
Yet ride-sharing doesn't lag behind in terms of comfort, either! Modern vehicles often possess creature comforts that rival luxurious salons. And let's not overlook the convenience of being able to hop in and out whenever and wherever you want.
Green Transportation: Leading the Way to a Future
Now, let's steer our vehicle towards a greener pasture. The impact on the environment matters. Chauffeur services, even though they may have top-notch vehicles that consume a lot of fuel, are making progress toward sustainability. Hybrid and electric options are becoming more common, paving the way for a future.
Ride-sharing, with its potential for carpooling, can also contribute to reducing our carbon footprint. It's like planting trees along the highway one shared ride at a time.
Booking; Embracing Digital Convenience
In this era of advancements, convenience reigns supreme. Chauffeur services often require advance booking to ensure your ride is ready when you need it. It's similar to making a reservation at your restaurant. You know you won't be turned away at the door.
On the other hand, ride ride-sharing is like walking into a diner. Just open the app, request your ride, and voila! Your transportation is on its way within minutes most of the time.
Conclusion
Choosing between chauffeur services and ride-sharing is not an easy decision to make. It's an array of options, each with its advantages and quirks. Whether you prefer the luxury of chauffeur services or the convenience of ride-sharing, it's important to consider your needs, financial capacity, preferences, and the specific occasion you need the ride.
Whether you opt for the elegance of chauffeur services or the flexibility of ride-sharing, the path ahead is yours to conquer. And remember, it's not about reaching your destination; it's about enjoying every moment of the journey.