This post has been sponsored by The Fault is in Our Stars. 

It is often Ben on The Gin Joint who gives his top picks and movie reviews, and while I sometimes agree with him, there are lots of flicks that there iss NO WAY  he would sit through that you and I would LOVE. Since it's the first week of summer fun time, I figured that I'd give you my TOP FIVE picks, for those days when the heat has gotten to be too much, and you JUST want to relax in a cool movie theater and get lost in a great movie.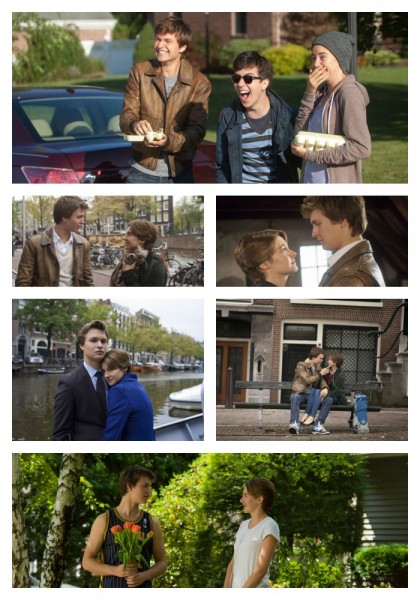 Let the countdown begin:
5. Jersey Boys
I'm a sap for a good musical. The long running Broadway show FINALLY makes it to the Silver Screen, and I'm there (you may want to sit far away from me in case I start singing). Then again, I grew up in the days of Franki Valli and The Four Seasons.
4.Wish I Was Here 
I admit it. When Zach Braff took to Kickstarter to fund this movie, I had my dollar waving, ready to donate. When the movie opened at Sundance, I had my reservation booked. When I was forced to decide between that and interviewing Kevin Smith, Clerks won out and now I HAVE to see the movie that I "backed."
3. Begin Again
When "Once" director John Carney decides to do another summer romance musical, you know it'll be on my must see list. I was such a fan of Once. Toss in Keira Knightly, Mark Ruffalo, and Adam Levine (swoon), and it's a no brainer.
2. Boyhood 
I tried to see this film at Sundance this year, but with only ONE showing there were more people wanting to see it than there were seats in the theater. Ben did get to see it at SXSW (look for the review he put up earlier this week), and it's still on my must see list.  The film that took 12 years to film (it spans the life of Mason from age 5 to 18) with a cast that includes Ethan Hawke and Patricia Arquette, has been getting rave reviews even from the most cynical of critics.
1. The Fault in Our Stars
Each time the advertisement comes on, I get a little weepy.
This is the story of Hazel and Gus, two teenagers who share an acerbic wit, with a disdain for the conventional, and a love that sweeps them on a journey. Their relationship is all the more miraculous given that Hazel's other constant companion is an oxygen tank, Gus jokes about his prosthetic leg, and they met and fell in love at a cancer support group. With: Shailene Woodley, Ansel Elgort, Willem Dafoe, Nat Wolff, Laura Dern, Sam Trammell, Mike Birbiglia, and Emily Peachey, and directed by Josh Boone. The Fault in Our Stars is based on the book by John Green.