Where do I begin?
My friends at the auto concierge company called to say they were bringing me a Kia Soul to review.
My reaction
How do I get out of this? I've reviewed a Soul before and frankly, it wasn't a car that I'd buy. I like a car with style. I like a car with UPGRADES., and if I don't have THOSE things… I like a COOL looking car. But, it wouldn't be very open minded of me to say no. What could be the harm in driving the Soul to the grocery store and on my errands?
On delivery day, I looked out into the driveway and saw them pull in with….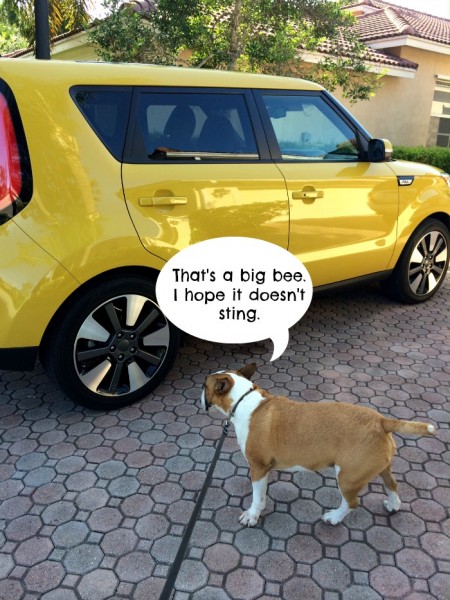 What is that oversized bumble-bee in my driveway?
I just looked at the poor guy who delivered it with this…you've got to be kidding look at my face. I can't drive that car. It looks like a bumble-bee on steroids.
No…No…No…No…No
I am NOT driving that thing.
Before they leave a car for a test drive you are walked through all of the features and they accompany you on your first drive. He opens the door and…..
STOP THE PRESSES
The interior of this big yellow taxi is GORGEOUS…AND, it has features that you'd find in a LUXURY car.
A panoramic sunroof
LOTS of headroom for Mr. S (6'2″) and Ben (6'1″)
The absolutely COOLEST Infinity speakers on the dash that I've ever seen – and an audio system to match
Rear camera display
23/31 MPG – not bad for a roomy car like this
Gorgeous leather seats with top-stitching
Heated & ventilated seats
Navigation with Sirius/XM radio – Bring on JONI MITCHELL
Leather wrapped steering wheel and matching leather shift knob
6-speed automatic – this baby can TRAVEL
…and I loved
Being able to switch the steering from stiff to comfort, depending upon my driving mood. In comfort, this not so little Kia felt like a luxury car. I always take Mr. S for a ride because he can really feel the intricacies of a car and he loved the way it felt on the road. It has power, room and bells and whistles.
What's NOT to like?
Oh, yeah…the color. Personally, I think that the ONLY car that looks good in that color yellow is a Corvette. Sorry Kia, but next time bring me one in black, white, navy or red. I prefer the classics.
>>>> The Kia Soul! starts at $25,400
>>>>The tricked out model that I drove is $26,195….yellow color optional
DETAILS
Test drive one at your neighborhood Kia Dealer: LOCATIONS
Don't it always seem to go, you don't know what you've got til it's gone   Joni Mitchell