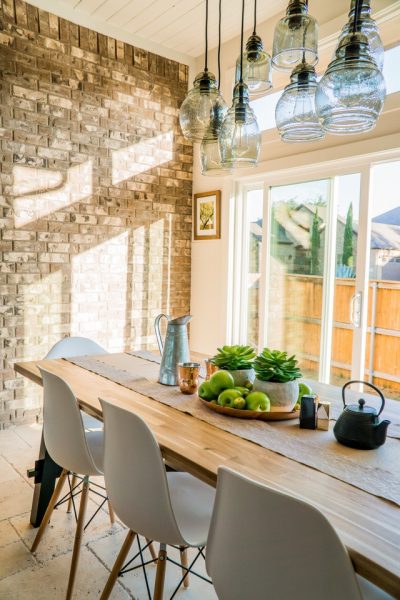 Dining rooms witness the merriest moments. They lend an ear to family stories and behold the views of bountiful meals. Hence, a dining room is one of the most important parts of any home. No doubt, home dwellers spend a lot of time and energy finding a perfect dining table for their homes. If you are also looking for one, perhaps we can help you. 
Here is how to buy the right dining table. 
Dining tables are meant to sit and eat with family and friends, but for most, dining tables serve multiple purposes. 
A dining table converts into a home office during working hours, a study table for kids, and a place to undertake all the DIY projects. Hence, it should be selected wisely, according to the purposes it serves.
If your dining table is an extension of your kitchen, and you use it for food preparation, look for a sturdy table with a casual style. The same rule implies if you use the table for art and craft projects, homework, or office work. The tabletop should be scratch-resistant and easy to clean. 
If you have a very formal dining room where you often entertain your guests, go with sleek and stylish dining tables. Look for glass-top tables with ornate designs, details, and finish. 
Size is one of the most important considerations while buying a dining table. Buying a table too large or too small is never a good idea. A dining table should perfectly fit the scale of the dining room. 
These guidelines will help you select the right size for your dining room. 
There should be 24″ between the wall and the table to facilitate sitting down and getting up.

There should be 38″ between the wall and the table to provide ample space for guests to walk behind the table. 

The maximum width of the table should be 48″ to allow the diners to pass dishes across. 

The minimum width of the table should be 36″ to allow for enough space to place the dishes and other dining accessories on the table. 
Go a size larger than you need 
You may be a family of four, but buying a table to accommodate only four is not an ideal option. Similarly, you may be six, but buying a table for more than six would be the right thing to do. 
Ideally, every piece of furniture in your home should be bigger than what you think you need. So if you are three, buy a table to accommodate six members, and if you are six, buy a table to accommodate eight members. 
Pay attention to the shape
Visit a furniture store, and you will find dining tables in an array of shapes- rectangle, square, round, and the list goes on. With a sea of options available, the path of selecting the right dining table may get a little twisted and difficult.
As most rooms are rectangular, a rectangular dining table makes up the most sensible choice. It easily accommodates four to six people and more if it comes with an additional leaf for enhancing the length. 
A square dining table is ideal for a square-shaped room. Buy one that can be expanded to accommodate extra guests. 
If space is your biggest concern, a round dining table will be the solution for you. Round dining tables are apt for intimate dinners. 
The bottom line 
Buying a dining table is not as complicated as it seems. You need to be clear about what you want. We hope the information shared here will help you narrow down your list and find the perfect dining table for you.