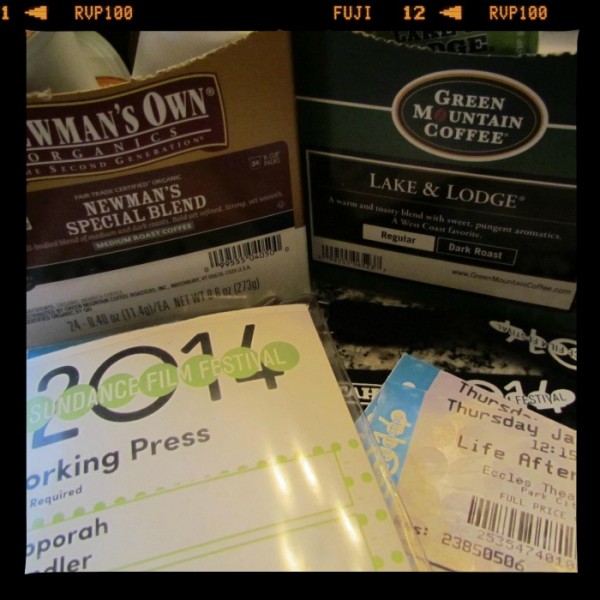 It's been a mere three days since I've returned home from the Sundance Film Festival and I'm already missing the laid back Park City style. Walking down the street, sitting down at restaurant, or stopping in to hear some good music at one of the brand lounges, you'll never know who you'll run into. Celebs, directors, Sundance volunteers, fellow press or just happy moviegoers, all mingle over a cup of coffee in between screenings and chat easily. There's a lot of "aren't you…?" with the Sundance question "So, what have you seen that was good?" Whether it be a moment in the deli putting milk in your coffee with Paul Rudd, or at a formal interview with the cast of Clerks, it seems that everyone has a hot cup of coffee and the same question.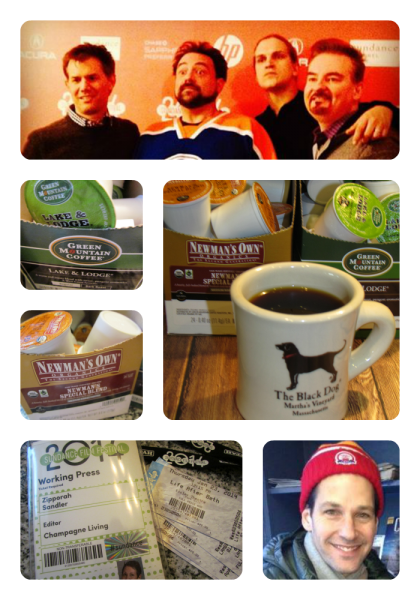 While I'm happy to be home with Mr. S, the festival is still fresh in my mind and I've been sharing my photos, film reviews, and recent memories with him over a cups of coffee sent to me by Cross Country Cafe. Knowing that I would want to keep the experience of Sundance close, I dove into Newman's Own's Special Blend…perfect for the Butch to my Sundance, and Mr. S has been drinking Green Mountain Lake and Lodge in honor of Robert Redford's Sundance Resort (where there were daily film festival screenings).
Bringing Memories Home
Souvenirs are great, but I love to extend my memories with experiences, and with these morning coffee's from Cross Country Cafe I imagine that I'm right back there on Main Street in Park City, asking one of the movie director's to take a picture of my friends, and have him grab my iPhone with a smile and tell a story about how he started in the business as he snaps away, with all of our coffee cups in a row waiting for us. Just like the song that reminds you of your senior prom, this coffee will forever remind me of Sundance.
For more details