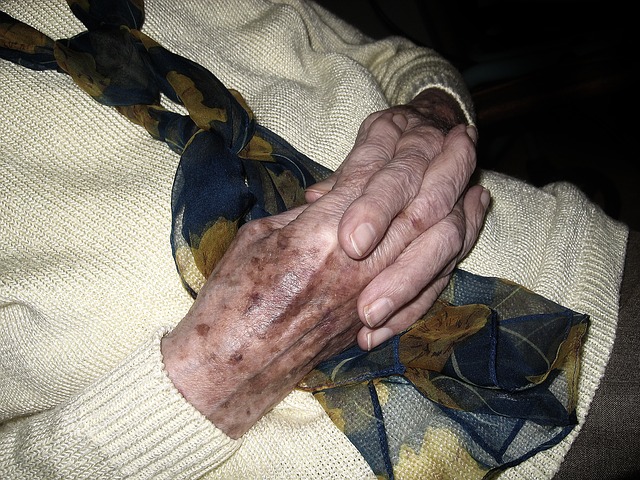 One day you have beautifully even skin and it seems like the next you're looking into the mirror and want to grab a pencil and play "connect the dots." Some people call them Age Spots and some people call them Sun Spots but no matter what you call them, no one really wants them hanging around! These dark patches of skin that slightly resemble large freckles are harmless but annoying, showing up on the hands and face after the age of 40 and announcing your birthdate to the world.
The bad news is, age spots are caused by genetics and sun exposure that happened throughout your lifetime so if you already have the spots there is little to do in the way of prevention now. If you're under the age of 40 let this be a lesson to you, avoid the sun and apply sun screen liberally. It's no surprise that sun spots show up first on your face and hands because these areas get the most exposure to the sun even when you are trying to avoid UV rays. You can't keep totally covered up 100% of the time, now can you?
I lucked out a couple of years ago. I happened to be interviewing Dr. Jason Pozner at Sanctuary Plastic Surgery in Boca Raton, FL, when he turned the tables on me and asked ME what bothered me most about the way that I looked. When I replied "these spots" he walked me into the treatment room and proceeded to "erase" them all with a laser. If I had known that I could have had them taken care of so easily, I would have done it YEARS ago.
If you already see the age spots appearing, don't panic, there are many ways to lighten them up or at least make them less noticeable. The good news is, the spots are pretty superficial, only existing on the upper layers of skin meaning they can be removed. You can go so far as having laser removal but many people opt for over the counter skin care products and skin bleachers to remedy the problem. Some of these skin care products can be pricing but they are effective!
Two ingredients that you should look for when seeking age spot defying creams are Glycolic Acid and Kojic Acid. Glycolic Acid is mainly used in chemical skin peels; which is way less intimidating that in sounds. A skin peel will lift the top layers of skin revealing younger healthier skin underneath. It is derived from sugar cane and can help diminish the appearance of fine lines, winkles and age spots.
The other ingredient, Kojic Acid is derived from fungi or mushrooms and is mainly used as a bleaching ingredient to safely and gently lighten the skin. Many people like Kojic Acid because it is effective without harsh side effects that other skin bleaching products can have.
Using a combination of safe sun practices and skin treatments you can prevent age spots from announcing your age or how much time you spent sun bathing as a teenager. If the over the counter methods do not work for you, you can always make an appointment at an ASAPS physician's office who offers laser removal like I did. Overall, the important thing is that you can look as young as you feel and be confident with your skin and your body.
For more articles about plastic surgery, please visit me on the Smart Beauty Guide.