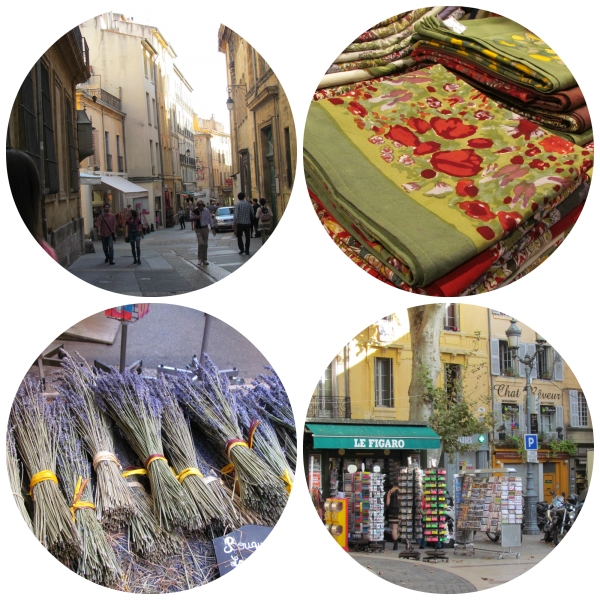 One step off of the gangplank and I fell in love with Marseilles, but I had a bucket list city in France that was only a short bus ride away, so with a few friends I ventured into the historic college town of Aix en Provence for some shopping (yes, I picked up some local goodies to add to the prize package for the Karina Dress winner), sightseeing and a glass of wine and a bite.
When I think of Provence I immediately go to fields of lavender, hot springs, and the vision of Cezanne and Zola dancing in my mind, I wanted to bring the feel and colors of the region as I set out to explore the cobblestone streets filled with shops filled with beautiful fabrics and soaps, and cafe terraces to enjoy that glass of wine with a traditional daube de beef Provencal….hearty on this cool autumn day.
Dressing for the day was an easy decision. I simply tossed on the COMFORTABLE Penelope 3/4 sleeved dress in Purple Plaid. Somehow the colors of the fabric seemed to fit my surroundings so well. The colors mimic the lavender hues of the region and the dress has a quasi-schoolgirl look….perfect for this college town. PLUS, it has POCKETS, making it easy to stow the lavender soap that I picked up as a prize for one of you.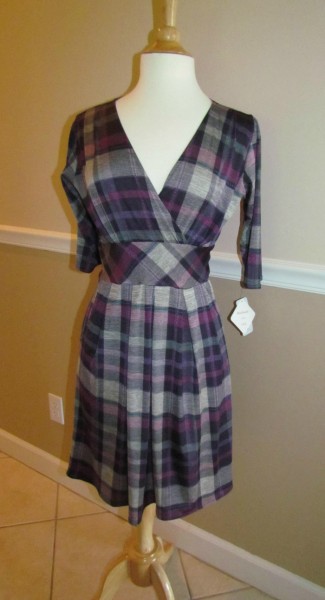 How did you do?
Did you feel the low mist over lavender fields in the cute Penelope dress from Karina?
***I just returned from Park City, Utah where I wore the SAME dress on a very cold day. I simply added a pair of grey tights and some black ballet flats. Again, the comfort factor wins in this dress and the oh-so-versatile length makes it a GO TO for both comfort and cute (the C&C factor). **
I'll be announcing the winner of the dress giveaway very soon! Keep checking to see  how you did matching the wardrobe to the city.
For more about Karina Dresses
Find out more about the PERFECT dress for you at Karina Dresses – don't forget to sign up for their newsletter!
I received my cruising wardrobe from Karina Dresses to facilitate these posts. All opinions are strictly my own.