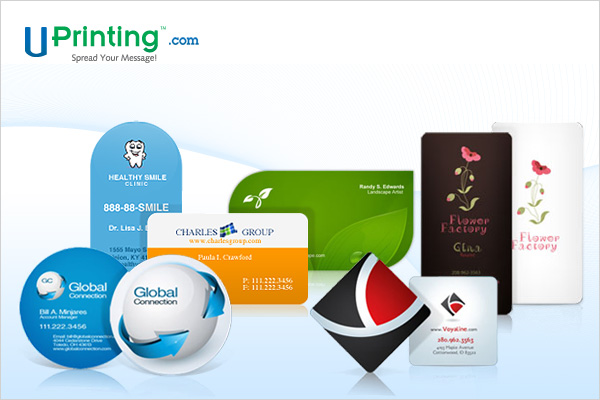 As a blogger (writer, photographer, and dishwasher) I write from a completely personal perspective. That's what a blogger does. Reconciling the sharing of my escapades online, with the fact that Champagne Living is also a business isn't always easy. I'm constantly torn between  HAVING FUN, and schedules, taxes, P&L statements,  business cards, and acting like a grown-up.
The schedules, taxes and P&L statements will never be fun. Business cards on the other hand can actually be a blast, especially when I get my creative juices going and start looking at the various designs and options available. You know how you get this BRILLIANT idea and then start playing with what it will look like on paper? 
Elegant or irreverent, like Champagne Living vs. The Review Broads…or maybe a little of EACH (I knew there was a reason I love two-sided business cards), that small rectangular card can say so much about your brand, company, blog, or YOU.
I love the fact that UPrinting gives so many options
Choose the size you want – from 1.75×3.5 to 2×3.5 and even SQUARE 2×2
4 different cardstocks
Order as few as 250 cards to 10,000 (I wonder when I'll be popular enough to need that many?)
Create custom sizes or choose a pre-set business card dimension that will match your design to avoid resizing of images.
Thicker paper stocks feel good to touch and add quality to the printed material.
Use pre-made business card designs or browse through their design gallery for inspiration.
Front AND back printing if you desire
FUNKY looking rounded corners and leaf designs (check out the image up top to see what I mean)
So, I'm thinking – maybe I need one side for my serious business Zippy and the other side for the almost 60 year old who still acts like a teenager.  What do you think?
I'd LOVE to know what you'd put on the two sides of YOUR business card.  UPrinting and Champagne Living are giving away a set of 250 business cards to one of our readers. All  you have to do is tell me  – what you'd like the 2 sides of your cards to portray about you.
GIVEAWAY
Extra Entries
Follow me on twitter @zipporahs and tweet about this giveaway
Comment below with your tweet
Subscribe to Champagne Living,  follow me on facebook or twitter – all found on the sidebar (each counts for 1 extra entry)
Tell your peeps on your blog, facebook page or twitter about this or any post (each counts for 1 extra entry) and link to us.
Share this giveaway on any contest/sweepstakes/giveaway site for 5 extra entries..
This giveaway is open to US residents, 18 and over and ends on August 4, 2012
No purchase is necessary.
Odds of winning are dependent upon the number of entries received.
Void where prohibited by law.
This is a sponsored post. I so want to get silly business cards, just because I'm tired of the same old same old. Too bad Jewel Figueras already has "head chick in charge" as her title, it's brilliant and I want to steal it. #justsayin