My dog and I couldn't be more different. I'm all loose and fly by the seat of my pants, and Clem (Clemenza) thrives on schedules and routine. Eating at the same time each day, going out for walks, and playing are all scheduled in that little head of his – like clockwork.  He's trained me fairly well, although there are times that he gets in my face with that FOUR O'CLOCK LOOK (dinner time), when he knows that my inner alarm and his aren't synced. He may seem rigid on the outside, but underneath it all I believe that he's closet rocker.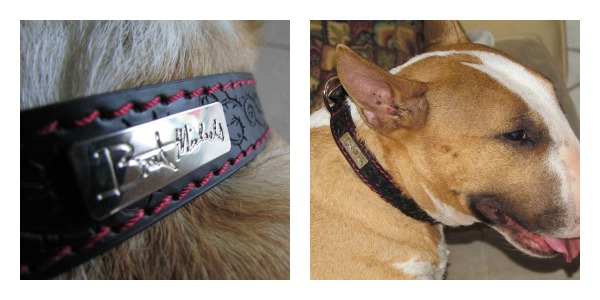 That look in his eyes when he knows he looks great in his Bret Michaels collar, with it's edgy embossed black leather and hot red stitching. Underneath that old dog exterior he's secretly singing Every Rose Has it's Thorn, and I bet given the chance he'd be strutting around in a black pleather vest  looking all bad-ass.
This seemingly innocent looking miniature bull-terrier loves nothing more than to  grab a Bret Michaels Pets Rock™ toy and run through the mansion – again and again and again.  Whether it be a Bret Michaels signature bandanna with two tennis balls attached like this one…
or squeaking his Bret Michaels Pets Rock Plush Fox Toy to Poison tunes (I suppose it's better than him howling into a microphone)…
He's definitely a hard rockin' bullie. I wonder if he turns on the radio and rocks with the golden lab next door when we're not around?
Petsmart's Bret Michaels Pet's Rock collection of clothes, toys and bandannas are available both online and in-store and range in price from under $4.00 to under $60 (for a WICKED COOL pleather bed). He's truly one of those dogs that really enjoys it when I dress him up, and it always cracks  me up. Up until now most of the dog clothes were very frou-frou and girly….these are definitely for the cool dogs….
Clem received product to facilitate this post. I had to talk him out of getting on stage and barking at an audience and just pose. Opinions are strictly my own.