This post has been sponsored by Dunkin' Donuts. All opinions are strictly those of Champagne Living Media.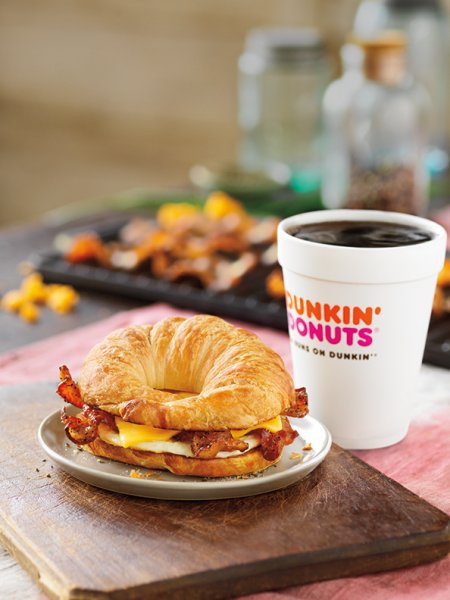 There are just those mornings
You know the ones. They start out with you waking up later than you should with no time to measure out the coffee or even pour a bowl of cereal. These mornings can turn into bad days.
That happened to me earlier this week
I woke up not feeling quite myself and had an appointment to make. With no time to even push the button on the coffee pot I hopped into the car. As I was making my way down the street I turned and looked at my neighborhood Dunkin' Donuts  and saw
There was no one in line at the drive-thru. – SCORE #1
I ordered my usual – a medium coffee black no sugar and thought I should add a breakfast sandwich since I was going to a meeting and if my stomach growled I'd look HUNGRY rather than successful.
I'd like a Sweet Black Pepper Bacon Breakfast Sandwich please I said into the speaker.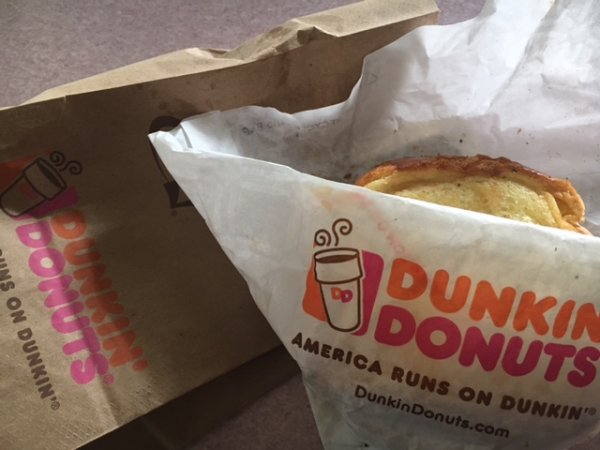 I hadn't tried one yet, and I keep seeing them advertised. She told me they were out of croissants and suggested I try it on slices of Dunkin' Donuts Texas Toast. Ooohhh…that sounded good. I like trying new things.
Even before I wrap my mouth around it I check out the ingredients – SCORE #2
This sweet and savory sandwich was piled high with 
egg
a slice of American cheese
and not one, not two, not three, but FOUR strips of bacon coated in a brown sugar and black pepper seasoning
all served on a croissant (or in my case Texas Toast)
For the wrap lovers, you can order The Sweet Black Pepper Bacon Breakfast Sandwich  as a Wake-Up Wrap®, with ½ egg, a slice of American cheese and two slices of the special seasoned bacon, served on a small flour tortilla. But, I was having a bad day, so there was no skimping for me…bring on the BIG Sandwich.
I cut it in half.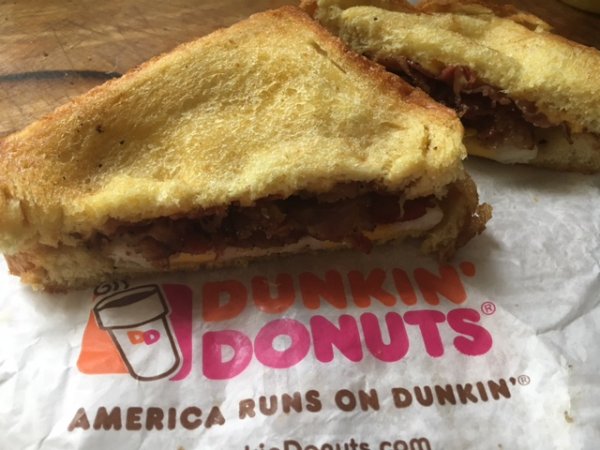 It was bigger and heartier than I had imagined. Yes, I'll only eat half.
I went back and ate the other half a minute later. – Score #3
OK, so I have absolutely NO WILLPOWER when it comes to deliciousness. I even thought about stopping back and getting another one for Mr. S on my way back from my meeting. Dunkin' Donuts' full menu, including breakfast items, are available all-day so he could have one for lunch.
I LOVE BREAKFAST
And, Dunkin' Donuts knows that BRINNER (breakfast for dinner) is a real thing in my life. They have made a commitment to those of us who expect lots of choices with their ever changing menu innovation, all with that same great Dunkin' taste, quality and value that we've come to expect over the years.
And for those of us on the RUN – Score #4
Dunkin' Donuts breakfasts mean that I can just order and go when I don't have time, or stay and sit with a friend over coffee and my Sweet Black Pepper Bacon Breakfast Sandwich on Saturday mornings when we both have time to chat and relax.
Have you tried them yet?
NO? Both the Sweet Black Pepper Bacon Breakfast Sandwich and the same as a Wake-Up Wrap® are available at participating Dunkin' Donuts restaurants nationwide now through early 2017…so hurry and give them a try.
Oh, and don't mind about all of the juicy bacon goodness running down your chin, just ask for a few extra napkins. – Score #5
Oh & I nabbed the client – Score #6
That's what a good breakfast can do. Because if you're hungry you just can concentrate.


For more about the Sweet Black Pepper Bacon Breakfast Sandwich or to find a Dunkin' Donuts near you visit DunkinDonuts.com