We received 2 bottles of bourbon from Rabbit Hole Distillery to help us with this post. We did all of the testing ourselves. – Z&MrS
Baby, it's cold outside
Even in South Florida the temperatures have been dipping and while our streets may not be covered in snow, our roads are wet and we aren't leaving the house in shorts and flip-flops any time soon. Brrrr….
A new wave in distilleries
I am loving the growth that craft distilleries have sparked throughout our country and when a distillery starts in a state FAMOUS for a spirit, they have to really bring it to the table, because the competition can be fierce. Lucky for us, Rabbit Hole's Super Premium Kentucky Bourbons have brought their A-game to the table.
Sipping
I've always been a sipping vs. mixed drink gal because I like the taste and warmth that a good bourbon offers and Rabbit Hole "Dareinger" is the perfect option for my taste for a neat drink. It has hints of sweetness and a linger of caramel ending in a nice dry finish. This is my new curl up in front of the TV on a cool night with bad TV and a good drink (my favorite combo).
Let's get to the drinks
It was a tough task to take on (LOL). With 2 bottles of bourbon from Rabbit Hole Distillery, I wanted something classic, warm and delish and what better drinks for a cold night than these?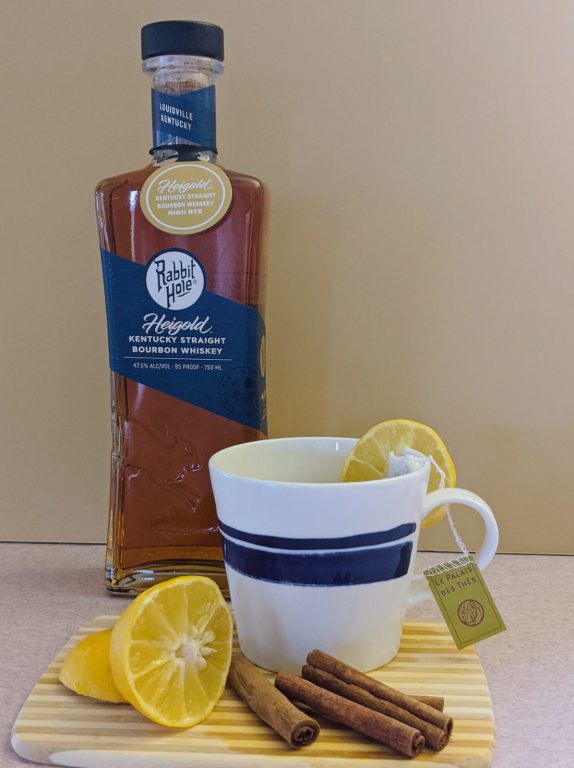 I Feel a Cold Coming On
OK, so this may be a hot toddy along with that tea that mom always told you to drink when you started feeling those sniffles come.
Ingredients
Spiced tea (I used my favorite Palais des Thés – thé des amants spicy black tea
Hot water
Rabbit Hole Heigold Kentucky Straight Bourbon Whiskey
Lemon
Cinnamon stick
Honey (note: I made mine without honey)
Simply
Boil the water and put 1 cup into a tea or coffee cup
Steep the teabag into the tea for your desired strength
Add 1.5 oz Rabbit Hole Heigold Kentucky Straight Bourbon Whiskey
Squeeze in a wedge of lemon
Add the cinnamon stick
If you like it sweet, squirt in some honey. I just prefer it without.
Curl up and enjoy.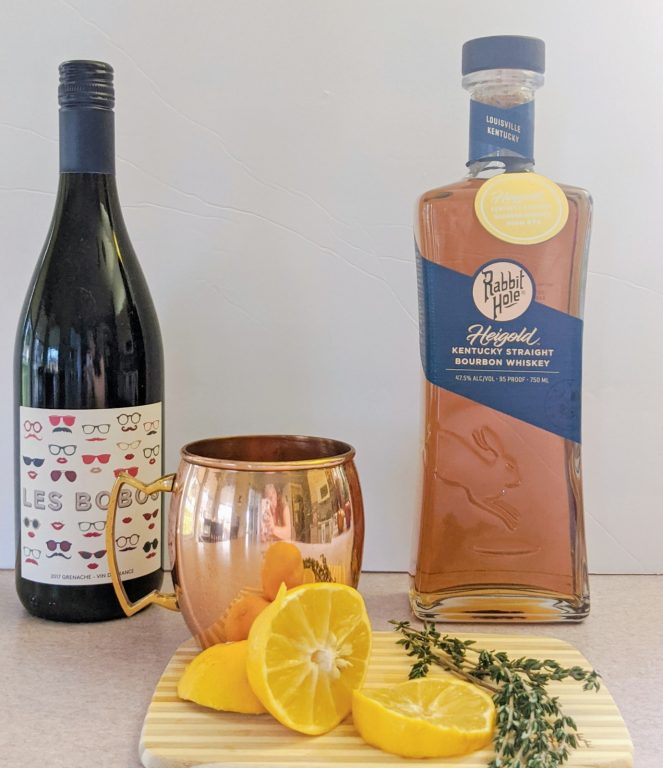 Christmas Market Memories
This year I'm staying home for all of December but making a twist on traditional Glühwein brings back memories of shopping the markets of Europe.
Ingredients
1 bottle Grenache or Sweet Wine
1/3 cup Rabbit Hole Heigold Kentucky Straight Bourbon Whiskey
2 Oranges
4 Cloves
Cinnamon Sticks
Directions
Pour wine and bourbon into a saucepan
Squeeze in the juice of ONE of the Oranges
Add Cloves
Simmer on medium-low for 10 minutes
Pour into mugs (I like Moscow Mule Mugs)
Slice the 2nd orange
Add a cinnamon stick & orange slice to each mug.
You can keep this out in a crock-pot for guests to help themselves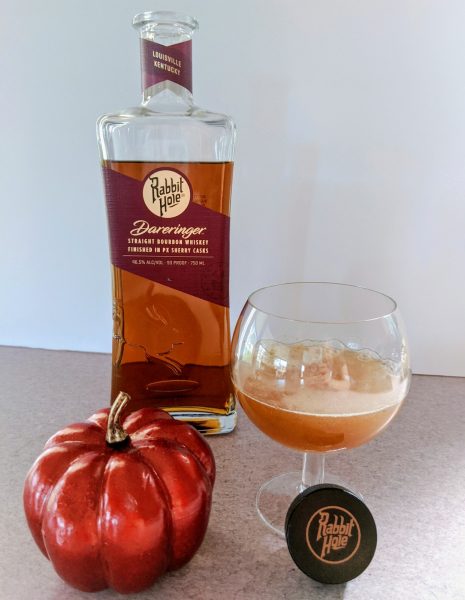 Pumpkin Spice Bombed Bourbon
There are times when you don't feel like fussing or maybe you're bartending challenged (much like I am when it comes to cooking). This is as easy as pour and PLOP. It is for those of us who want to keep the pumpkin spice trend going throughout the winter months.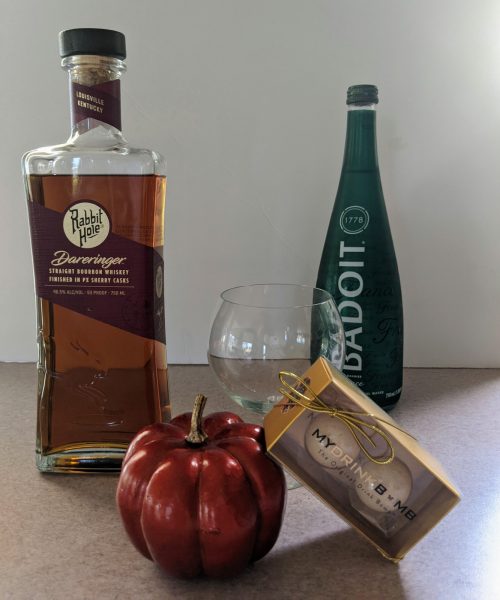 Ingredients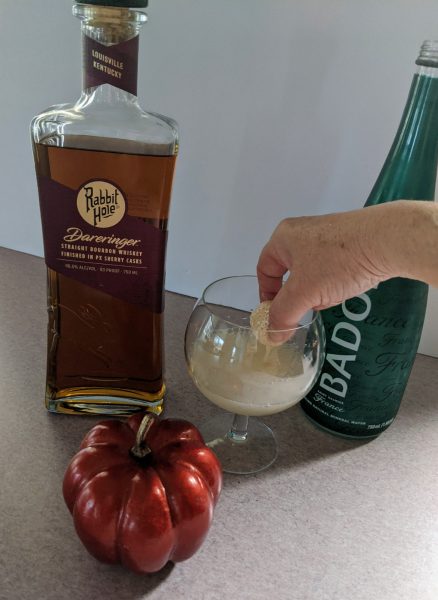 Easy-Peasy directions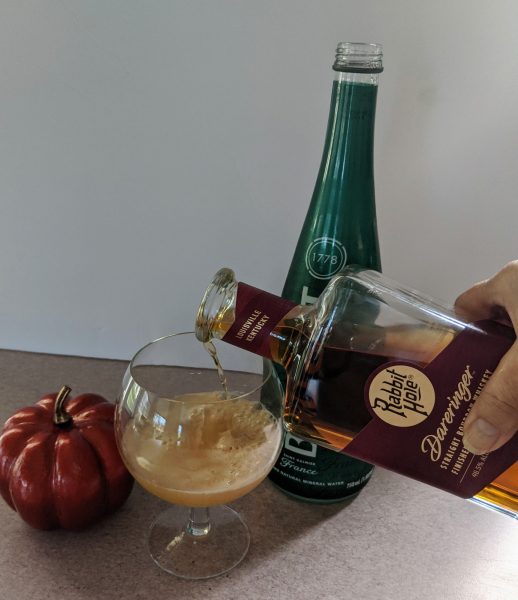 Pour sparkling water into a glass
Drop in the drink bomb
For a smoother cocktail add Irish Cream
Splash in some half & half to finish
To make the perfect bourbon cocktail, you need to have a good collection of options to choose from. While the cocktails mentioned above are a must-do, you always have the freedom to try out your combinations. The most important thing is to source from a collection of bourbon you love. If you know any bourbon-lover worth sharing your cocktail with, why not treat them to these unique bourbon drinks or consider these bourbon gift ideas.
Do you have any great bourbon cocktails that you enjoy during the winter?