Before I get online, before I take a shower, brush my teeth or change my clothes.  Before I take the dog out for a walk. Before the bed is made. Before I even think about starting the day I need my
COFFEE!
Mornings are made of black coffee, while afternoons bring a touch of flavored creamer to sweeten my day a bit and keep me going. The problem has always been that I don't enjoy the flavor (especially the aftertaste) of the commercial coffee creamers. I much prefer real milk or cream and if I want it flavored I have to add that on top of the dairy. So, I was excited to hear about Coffee Mate's newest creation
Aside from the fact that it has that hippie, yoga, flower-child sounding name (actually I found it appealing as a child of the 60's), I love the fact that I get just what I've been creating in ONE bottle at a price that's much less than my combination. Made of  all natural ingredients the creamers come in three flavors
Sweet Cream
Vanilla
Caramel
I so wanted to try the caramel and sweet cream, but after searching my nearby groceries (even the ones listed on the Coffee-Mate site) I only found the Vanilla flavor stocked at my local Target.  I can tell you that I loved the REAL flavor that it gave to my coffee. But what I loved even BETTER was making a glass of vanilla MILK. That's right, I poured myself a BIG glass of non-fat milk (I need to be getting more dairy in my diet) and added a bit of the vanilla Coffee-Mate Natural Bliss for a delicious glass of vanilla milk. Since these products hare all natural (you can see the ingredients list in my picture), you can also give them to a child in a glass of milk for a special treat.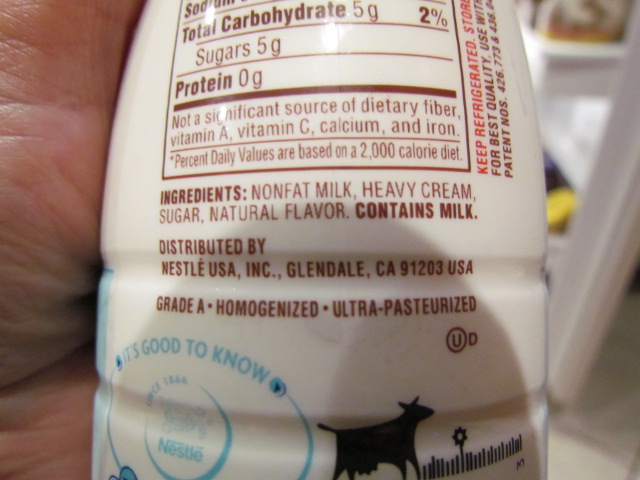 Because it's a real dairy product, you can easily cook with it as well.  I got this easy recipe from the Coffee-Mate Natural Bliss website for:
Fresh Strawberries with Sweet Cream Bliss Topping
Yield: 25
Ingredients:
1 container (8 ounces) light or fat free frozen whipped topping, thawed
1/2 cup Sweet Cream Flavor NESTLÉ COFFEE-MATE NATURAL BLISS All-Natural Coffee Creamer
25 to 50 large fresh strawberries
Raw or brown sugar (optional)
Instructions:
COMBINE whipped topping and Coffee-mate in large bowl; stir gently to combine. Spoon about 2 tablespoons mixture into small individual bowls; top with 1 to 2 strawberries. Sprinkle with sugar.
OMG – it was DELICIOUS!!! I substituted the Vanilla flavored Coffee-Mate Natural Bliss for the sweet cream flavor and poured it into real whipping cream and served it to a few girlfriends who had come over to chat.  They thought I had done something special.
I can't WAIT to try the others and I am planning on going back to grab the other flavors as soon as they come in. They are available in stores around the country, but because not ALL of the groceries carry them yet, it's a good idea to check first with their list of locations like I did. You can also "like" them on Facebook and download a coupon for $1.00 off.
Look below and enter to win a coupon for a FREE Coffee-Mate Natural Bliss!
"I wrote this review while participating in a campaign by Mom Central Consulting on behalf of Coffee-mate and received coupons and a promotional item to thank me for taking the time to participate."
GIVEAWAY
Extra Entries
* Tweet me @zipporahs and tell me what flavor you would enjoy in your coffee.
* Comment below
* Subscribe to Champagne Living, "Join the Clique", follow me on facebook or twitter – all found on the sidebar (each counts for 1 extra entry)
* Tell your peeps on your blog, facebook page or twitter about this or any post (each counts for 1 extra entry) and link to us.
* This giveaway is open to US residents, 18 and over and ends on September 13, 2011
* Good Luck