Product &/or compensation was received to precipitate this post. All opinions are strictly our own.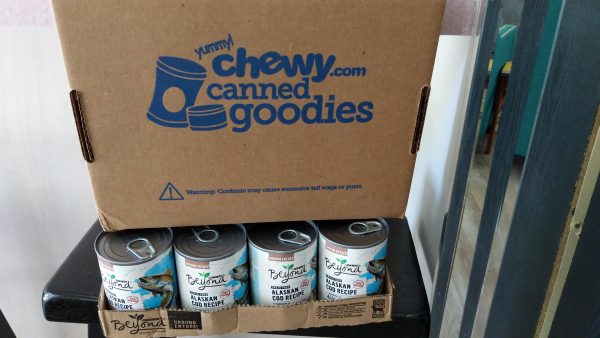 My mom is a fanatic
I've tried to tell her time and time again that – I WILL EAT ANYTHING! But, she doesn't listen. I tell her, it's okay….I'm HAPPY to lick the crumbs from the floor when you're cooking and I'm definitely all in on keeping things off of the lawn for you. But, she won't have it. She pulls me away from those delicious looking undistinguishable things that found their way onto our neighbor's lawn as we take our evening walk.
Don't tell her, but I really do appreciate it
When the truck comes every few weeks with my dinners and treats from Chewy.com I KNOW that they are for me (as I sniff the box before she cuts it open and puts everything in the closet….away from my nose).
Purina Beyond Grain-Free Alaskan Cod Recipe 
Mom only buys me foods that keep me healthy AND taste great. A couple of weeks ago we tried something TOTALLY NEW! I love having fish (and not just on Friday), so when the truck with my Chewy order pulled up with an ENTIRE CASE of Purina Beyond Grain-Free Alaskan Cod Recipe Canned dog food…I BEGGED TO TRY IT right then and there.
I had to wait until dinner
Mom was unwavering in her ridiculous rule of only eating at mealtime, but it was totally worth the wait.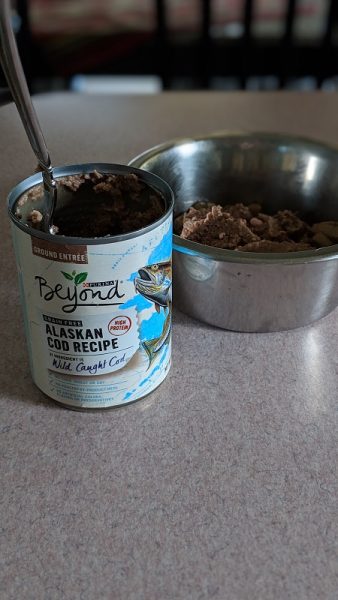 Mom was happy because it is
Regionally sourced Alaskan cod is the first ingredient, followed by only 3 other primary ingredients.
High-protein formula supports your active dog's healthy muscles.
Made with fish that was sustainably sourced from an MSC-certified fishery.
Grain-free recipe excludes all grains and gluten, for a recipe that's safe for dogs with certain sensitivities.
No corn, wheat, soy or by-product meals—it's nutrition without fillers!
Me?
I just LOVED it because….as you can see…it is so delicious that I had to lick up every bit that might have dropped.
Here's where MOM gets it!