Planning your life together — as well as the biggest party you'll ever throw — is a huge task. If wedding planning is already making you crazy, don't stress out about the wedding night. While figuring out the seating chart and food budget can be overwhelming and tedious, choosing your bridal lingerie should be nothing but fun. Here's what you need to know about bridal lingerie trends in 2021.
1. Silk Slips
One of the most popular trends in bridal lingerie this year is silk slips. Made from silk satin, wearing a silk slip is a simple way to go on your wedding day. They leave a lot to the imagination so you can engage in foreplay without sending him too far over the edge.
2. Lace Lingerie
Lace is the epitome of elegance and that's why when it comes to bridal lingerie, you'll always find a little lace somewhere. While it's on-trend, it's much more than a trend because lace is likely here to stay. It's sexy and sinfully sultry.
3. Feminine Babydolls
Cute, body-hugging feminine babydolls are on-trend right now, and for good reason. Not only are they sexy and fun to wear just around the house, but they make great pieces of bridal lingerie for the hubby. Try a high neck keyhole babydoll or another piece of sexy lingerie from 3 Wishes.
4. Sexy Bodysuits
Bodysuits are another popular lingerie trend among young brides in 2021. So if you're looking for something sexy and sleek — and that covers your stomach — a bodysuit could be just the right piece of lingerie for your wedding night. Get a matching lace robe and slippers to match.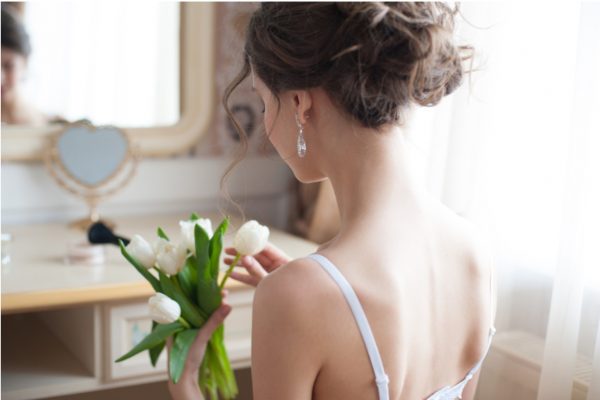 5. Bridal Teddys
Bridal teddys are not your average teddy. They're prettier and fancier. So if you were thinking of getting one for your wedding night, consider shopping for one tailored for brides.
6. Gorgeous Corsets
For centuries, the corset has sucked the life out of women everywhere. These days, they're worn a lot more comfortably, thankfully. And wearing a corset on your wedding night could send your new husband over the edge out of sheer pleasure.
7. Rompers
Rompers aren't just for the streets anymore. They've officially made the transition into the bedrooms of millions of people around the world. And yours could be next. Get yourself a sexy delicate lace romper that makes your husband melt in your hands on your wedding night.
8. Animal Print Lingerie
Animal print lingerie can be sexy for any occasion and your wedding night is no different. Stock up on all of the cheetah, leopard, and other popular animal-print lingerie to get your new hubby going.
9. Garters
You can't have a wedding without a garter. And that garter should be carefully selected prior so your hubby can take it off at the ceremony. Keep a second set for the special night and your husband would likely love the opportunity to take it off again.
10. Skirted Bustier
A skirted bustier can make your wedding night all the more special by giving your man a look at you at your skimpiest. Find a skirted bustier with lace and fur — and one that's his favorite color on you (unless you want to go the traditional route and wear white).
Choosing the Right Bridal Lingerie for Your Wedding Night
As you can see, there are several different types of bridal lingerie to choose from. It all depends on what makes you feel the most comfortable and sexy so you can feel confident on your special night.