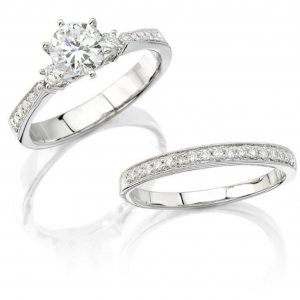 When you're buying bridal jewelry, you seek out the best. You're looking for that perfect bridal set that will represent the eternity of your love as well as show off your personal style. For many people, their bridal jewelry is the first fine jewelry they will purchase. So how do you know where to buy from? Buying jewelry is all about trust. You need to make sure you're getting authentic pieces from quality jewelers. Here are two Florida bridal jewelry stores you can trust to provide you with the height of quality, style, and service.
Barclay's Jewelers
Located in Miami, Barclays Jewelers carries the finest diamond rings and wedding bands. They have gorgeous jewelry from brands like Natalie K, Tacori, and Verragio. Barclays cares deeply about the quality of every piece in their store and they have a similar mindset when it comes to customer service. Barclays pays exceptional attention to every shopper that comes through their doors. From helping you find the perfect engagement ring to helping you maintain your jewelry for years to come, Barclays always goes the extra mile with their customer service.
From the romantic intricacy of Verragio to the refined simplicity of Danhov, Barclays is a licensed retailer of a stunning array of diamond designs that can accommodate any bride's style.
You can find more information about Barclay's and shop at their online store on their website.
Bradley's Jewelers
Bradley's Jewelers, located in Fort Myers, carries a vast array of bridal jewelry to fit any style and accommodate any trend. They also provide excellent service at their store. The owners of Bradley's pride themselves on being a family-owned store and providing a warm and friendly atmosphere with their personalized service. They also have a leading expert on hand ready to help you with any questions you may have. One of the owners of the store, Bradley Congress, is a gemologist and a leading expert in the field of jewelry authentication. You can trust his expert appraisal if you require a jewelry consultation.
You can also trust Bradley's to always carry the widest range of gorgeous engagement rings and wedding bands. They have glamorous designs from Gabriel & Co., utterly unique designs from Uneek, modern and innovative designs from Frank Reubel, and so many more.
You can find more information about Bradley's and shop at their online store on their website.