If you're a homeowner in beautiful Fairfax, VA, wanting to elevate your outdoor living experience, consider the addition of a screen porch. This investment will not only enhance the value and allure of your property but also offer numerous benefits for you and your loved ones to relish long-term.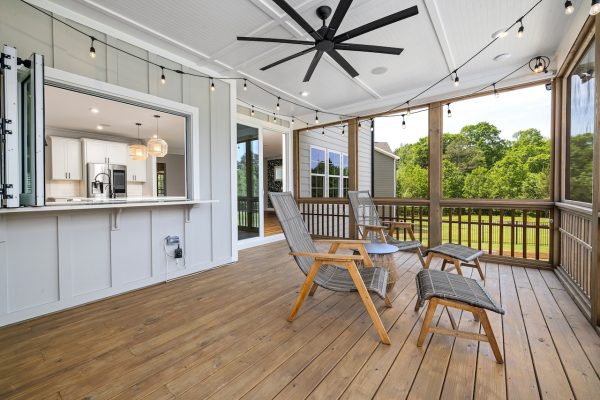 Extended Outdoor Living Space
A screened-in porch offers a fantastic opportunity to extend your living area and relish the outdoors in a cozy, safeguarded setting. It grants you a dedicated space for unwinding, hosting family get-togethers, entertaining guests, or simply indulging in an aromatic cup of coffee while soaking up the crisp air. By investing in a screened-in porch, you can make maximum use of your outdoor space throughout most parts of the year,  undeterred by unfavorable weather conditions or pesky mosquitoes.
Protection from Bugs and Insects
A screen porch offers numerous benefits, including keeping unwanted bugs and insects away. By enclosing all sides with screens, you can peacefully enjoy the outdoors without any disturbance from mosquitoes, flies, or other pests. This allows you to confidently have meals, host gatherings, or simply unwind on your porch without the worry of being bitten or annoyed.
Increased Comfort and Privacy
By incorporating a screen porch into your Fairfax, VA home, you not only increase comfort and privacy but also add an additional layer of functionality. This addition effectively shields you from bothersome sun glare and excessive heat while minimizing the impact of outside noise pollution.
The addition of a screen creates a sense of privacy on your porch, allowing you to enjoy your time without any concerns about being observed by neighbors or passersby. This gives you the opportunity to relax and unwind in an intimate setting, free from prying eyes.
Protection from the Elements
With a screen porch, you can enhance your outdoor experience while staying protected from harsh weather conditions. No longer will you have to worry about canceling plans due to rain or extreme heat. Instead, you can savor the fresh air and picturesque scenery without being bothered by elements like raindrops, gusts of wind, or intense sunlight.
Versatility and Flexibility
A screen porch is a multi-purpose space that offers endless possibilities for various activities. Whether it's creating an outdoor dining area, a comfortable reading corner, a play zone for kids, or even using it as your personal yoga and fitness spot, the options are limitless. Customize your screen porch to suit your unique preferences and enjoy its added value as an extension of your home.
Added Home Value
Investing in a screen porch for your Fairfax home can significantly enhance its value and attractiveness to potential buyers. Screened porches offer the perfect blend of indoor and outdoor living, making them an irresistible feature that can make your home stand out amongst others in the market. Investing in a screen porch will not only enhance your family's daily living experience, but it can also significantly boost the value of your home when it comes time to sell.
Finding the Right Builder
When it comes to enriching your Fairfax, VA home, selecting the right screen porch builder is essential. You need someone who not only understands your vision but can also turn it into reality. A trusted and skilled builder will take care of every detail, ensuring that your screen porch is expertly designed and built according to your unique requirements and style preferences. They will guide you in choosing high-quality materials and finishes that enhance the overall look of your home while guaranteeing long-lasting durability.
Conclusion
A screen porch is a valuable addition to any home in Fairfax, VA. Not only does it extend your living space, but it also offers protection from bugs and insects, ensuring uninterrupted relaxation. In addition, the added privacy allows you to fully enjoy your outdoor area without prying eyes.
The shield from the elements lets you make use of this versatile space year-round. Moreover, investing in a screen porch can potentially boost the value of your property. Take advantage of all the benefits that come with having a screen porch and enhance your lifestyle by creating an inviting outdoor oasis for yourself and your family in Fairfax, VA.