Baby received items to facilitate this round-up. All opinions are those of the staff and are barking good.
It's been 2 months since Baby came into our lives. We weren't planning on another dog, but when Tara from the Central Florida Bull Terrier Rescue asked if we would foster, we lost our minds for a second and said SURE. I think we forgot that she was our foster dog IMMEDIATELY upon seeing her as she had jumped into my arms on our first greeting and has been my velcro dog ever since.
Since we had donated about 98% of Clem's things when he crossed the Rainbow Bridge, we were starting from scratch. Besides, Clem was a mini and Baby is a whopping 50 lbs of muscle and being a female, she wanted things her way. Here are her picks for her new home this Spring.
This girl likes to EAT, but OMG it's like a Roman Food Orgy every time she sunk her head into the aluminum bowl that we had. Once she switched to the Fluff Trough elevated feeder, it was like a 180-degree difference. This ergonomic feeder makes it easy to get every last bite. The vet-approved ergonomic shape has an open front so your pet doesn't have to bend its neck at a 90-degree angle to eat. This helps to promote better digestion, better posture, less mess, and less gas, as well as a more comfortable dining experience. Zippy loves that it's dishwasher safe, Baby loves that it's personalized just for her (it can also be customized with your image). She can't WAIT for the aluminum water bowl insert to be available….maybe then there won't be water all over the floor after a good tanking.
This innovative food trough was inspired by a pug named Pork Chop. He would struggle to eat from traditional dog bowls because of his adorable flat face. After he was diagnosed with vestibular disease (which causes a loss of balance) he had even more difficulty eating. So, what does doggy mom Debra Ann do? She designs a bowl specifically for those who struggle to eat from traditional feeders.
Oh, and they have donated $3000 worth of Fluff Troughs to different rescues and auctions in 2019 as well as support a large number of rescues by donating product for fosters and auctions, and fundraising through sales. This rescue bull terrier says THANK YOU Fluff Trough!
Available in regular size (holds 2 cups of food) and XL (holds 4-5 cups of food).
Visit: FluffTrough.com for more info and to buy one for your four-legged friend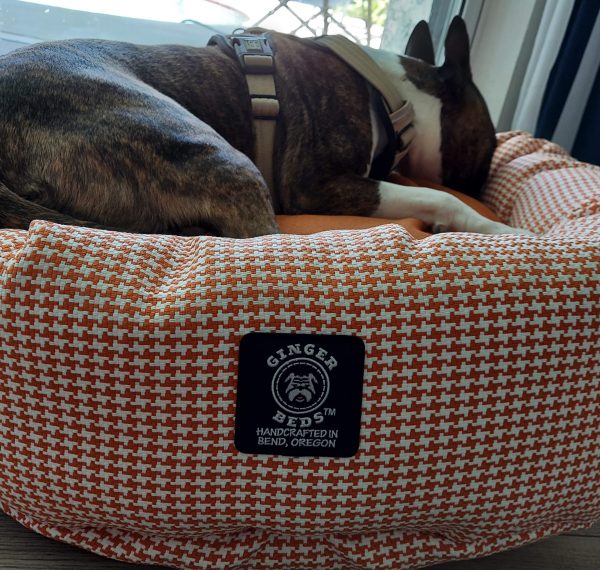 Poor Baby. She walked into a house with no dog bed beside an outdoor elevated one (and while she's used it to look out of the window she hasn't slept on it….ever). Even the crate was unfamiliar to her. What could her humans do to give her comfort (and look great in their house)? While Baby is a brindle, she loves a good Ginger, and since Ginger Beds was named after an English Bulldog named Ginger who loved her beds, and mom and dad used to live with an English Bulldog (a long time ago) named Peaches it was a match made in heaven.
Mom loves the fact that they are handcrafted in Bend, OR (and supporting small businesses is so important to her) and the cushion that is so comfy to sleep on is actually stuffed with recycled plastic bottles. A big WOOF for supporting recycling!
Because I can be a little stinky sometimes (I love to roll in the grass in who knows what and then come in for a snooze), mom appreciates that while the fabrics look exquisite, they are removable AND machine washable (even the cushion itself is washable). The quality is amazing and even the zippers are industrial, so she never worries about anything ripping or breaking,
Mom also likes that they donate a portion of their annual sales to K9S For Warriors. Those are the people who train and provide therapy dogs to our veterans in need of support.
Me? All I care about is that my Ginger Bed is comfortable.
Visit GingerBeds.com for more info and to help your pup get a great night's sleep in style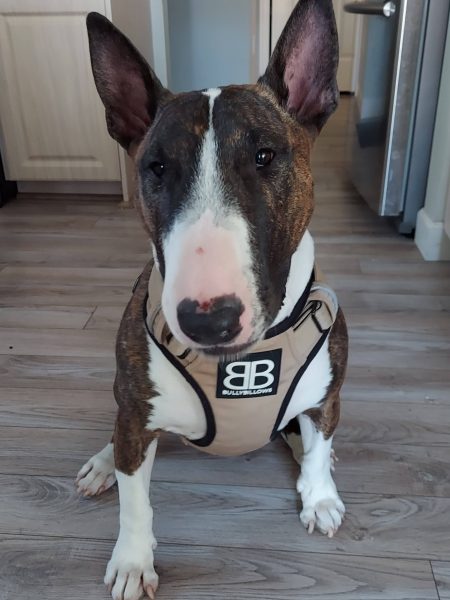 DISCLOSURE – Mom spent a LOT of money with BullyBillows. First, she bought me a harness, then a lead, then a collar. They are not a sponsor of this post, but we all love the brand SO much that we had to do a little OOTD, even though this was supposed to be about HOME. What's being home if you're not safe (and comfortable) there?
Mom bought me the premium harness (which I'm modeling in the photo above) because, well, I slip out of the usual harnesses and don't even get her started about collars (actually that's Dad's complaint).  They love that it offers me maximum comfort, strength and durability.While it covers a lot of me, it is still SO comfortable because it's lined with a soft neoprene and is stuffed with foam, so nothing rubs me the wrong way. With this 2.0 harness hitting above my shoulders, it allows me to move the way I like with no restrictions, and at the same time it's STRONG, so it even if I decide to PULL THEM DOWN THE STREET, my BullyBillows Premium Harness can handle it.

By the way, my mom loved it so much that she went back and bought me a matching lead and collar (Martingale of course…hey, I'm a Bully).
These are UK made, but you can order them right here in the US on their site, and they ship FAST!!!
Visit BullyBillows to learn more or to order and keep YOUR Baby safe when you walk.
Don't forget to follow Baby on Instagram at BarkBabyBark