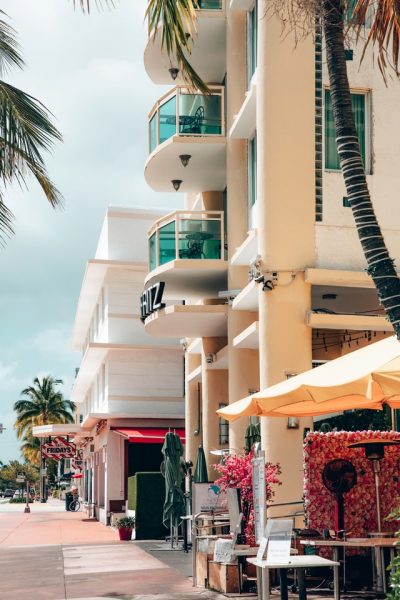 Florida is home to many big cities. Below are seven of the most popular and exciting cities in the sunshine state.
Miami
Miami has the most glitz and glam of any Floridian city. The rich and famous come here to sun themselves on the beach and there are many exclusive luxury nightclubs and hotels. However, you don't have to be rich to enjoy Miami. There are hotels, restaurants, bars and shops for all budgets. There's a lot of culture to soak up too – Little Havana is a taste of Cuba in America and is full of amazing Cuban restaurants and cocktail bars, while the Art Deco Historic District feels like a trip back in time to the 1930s. 
Orlando
Orlando is the most popular city in Florida for tourists due to its array of theme parks including Disney World, Universal Studios and SeaWorld. It's also got some incredible restaurants, boutique shops, and various live theatre experiences. If you're looking for a relaxing beach destination then you may want to steer clear (it's an inland city), but if you're looking for a vacation full of new experiences and thrills nowhere quite beats Orlando.
Jacksonville
Jacksonville isn't just the biggest city in Florida – it's the biggest city in America (by area, not by population). It stretches across three rivers and sports 1,100 miles of coastline. A lot of people head to Jax for the beaches, but the city has a lot more to offer. St John's Town Center is buzzing with things to do from shopping to indoor skydiving – this list of St Johns Town Center activities offer a few examples. The city also has a large number of museums and historical attractions.
Tampa
Tampa is like a family-friendly Miami – it has the beaches and the glamor while sporting a much lower crime rate and fewer crowds. It has a number of animal-themed attractions on its doorstep including The Florida Aquarium, Tampa Zoo, and Busch Gardens (which is a zoo and theme park in one). Tampa is also a great place for shopping and there are lots of lively restaurants and nightclubs in Ybor City (a great neighborhood for couples and younger crowds). 
Fort Lauderdale
Fort Lauderdale sports one of the best beaches in Florida, an impressive boardwalk, and a marina containing some of the most luxurious yachts you've seen. It's a lot more laid back than other Floridian cities already mentioned – think jazz bars and restaurants instead of theme parks and nightclubs.  
Key West
Key West is unique to other cities on this list in that it's an island city, plus it has a more Bohemian feel. There are lots of brightly colored buildings and quirky shops here. It's also a popular city for live music. There are also lots of great beaches.
St Augustine
If you're looking for history and romance, then St Augustine is the city for you. It lays claim to being the oldest city in the US and contains a lot of colonial Spanish architecture including the 17th-century fortress, The Castillo De San Marcos. This gives the city a very European feel. You can take horse-and-cart rides down its cobblestone streets and dine in a range of charming restaurants. The beaches are also beautiful here and have a much more laid-back feel. It's a popular honeymoon destination.